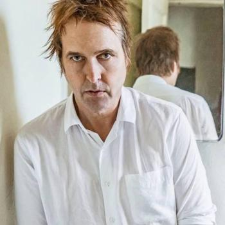 Shank Hall
Chuck Prophet and the Mission Express

,

The Bottle Rockets

Saturday, Mar 18, 2017 8:00 PM CDT
Shank Hall, Milwaukee, WI
21 years and over
Purchase Tickets
Online sales no longer available for this event. Contact venue for ticket info. ph 414-276-7288
Additional Information
Chuck Prophet describes his new disc BOBBY FULLER DIED FOR YOUR SINS as "California Noir." He says, "the state has always represented the Golden Dream, and it's the tension between romance and reality that lurks underneath the surface in all noir films and paperbacks, and that connects these songs. Doomed love, inconsolable loneliness, rags to riches to rags again, and fast-paced violence are always on the menu on the Left Coast."

Who is Bobby Fuller? He's the star of the ultimate Rock and Roll Babylon feel-bad story. ...read more www.shankhall.com
------------------------------------
In a country where interstates don't take you to new places, but to the same places, where everywhere you go you've already been or you've just left, The Bottle Rockets' new album absolutely nails a sound and a vibe with a palpable sense of place. Lean Forward is suffused with the determination and resilience of their distinctly midwestern roots; theirs is a celebration of pragmatism and tempered optimism, not the delusions and exhortations of glassy eyed zealots--they aren't going to fall for that. Oh, it's a flat out, smoking rock record, too. ...read more www.shankhall.com


Processing your request, please wait....