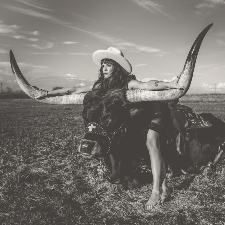 Lightning 100 Tomorrow Is Today
Nikki Lane


:

Record Release Show

with

Jonathan Tyler

Sunday, Apr 09, 2017 8:00 PM CDT (6:00 PM Doors)
3rd and Lindsley, Nashville, TN

Purchase Tickets
We're sorry, there are no tickets currently available through TicketWeb, only at venue
Additional Information
Nikki Lane's stunning third album Highway Queen, out February 17th, 2017, sees the young Nashville singer emerge as one of country and rock's most gifted songwriters. Co-produced by Lane and fellow singer-songwriter, Jonathan Tyler, this emotional tour-de-force was recorded at Matt Pence's Echo Lab studio in Denton, Texas as well as at Club Roar with Collin Dupuis in Nashville, Tennessee. Blending potent lyrics, unbridled blues guitars and vintage Sixties country-pop swagger, Lane's new music will resonate as easily with Lana Del Rey and Jenny Lewis fans as those of Neil Young and Tom Petty.
In 2014, Lane's second album All or Nothin' (New West) solidified her sandpaper voice beneath a ten-gallon hat as the new sound and look of outlaw country music. Produced by Dan Auerbach, the record's bluesy Western guitars paired with Lane's Dusty Springfield-esque voice earned glowing reviews from NPR, the Guardian and Rolling Stone. In three years since her Walk of Shame debut, Lane said she was living most of the year on the road.
Growing up, Lane used to watch her father pave asphalt during blistering South Carolina summers. She'd sit on the roller ("what helps smooth out the asphalt") next to a guy named Rooster and divvy out Hardee's lunch orders for the workers. "My father thought he was a country singer," Lane laughs. "He partied hard at night, but by 6:30 AM he was out on the roads in 100-degree weather." That's the southern work ethic, she says. "We didn't have a lot of money, but I was privileged with the knowledge of how to work hard, how to learn and to succeed when things aren't set up for me." Creativity was an unthinkable luxury, she adds. "When people told me I should try to get a record deal for songs I was writing, I was like, 'that's cute – I've got to be at work at 10 A.M.'"
Highway Queen is poised to be Lane's mainstream breakthrough. "Am I excited to spend years of my life in a van, away from family and friends? No, but I'm excited to share my songs, so they'll reach people and help them get through whatever they're going through. To me, that's worth it."
On the record cover, Lane looks out on wide, unowned Texan plains, leaning on the fearsome horns of a massive steer. Wearing a vintage Victorian dress, the stark photo invokes a time before highways existed. The symbolism isn't lost on Lane. Highway Queen was a pioneering moment for her as an artist.
"I was always a smart girl, always had to yell to be heard," she says, "But this was the first time in my career where I decided how things were going to go; I was willing to take the heat." Lane included the bonus track "Champion" as a small testament to that empowerment. "It makes a point," Lane says with a smile, "That I appreciate what you're saying, but get the fuck out of my way."


Processing your request, please wait....