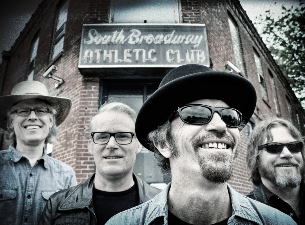 Bottle Rockets
Eric "Roscoe" Ambel
Friday, May 13, 2016 8:00 PM CDT (7:00 PM Doors)
12th & Porter, Nashville, TN
18 years and over
Purchase Tickets
We're sorry, there are no tickets currently available through TicketWeb.
Additional Information
The Bottle Rockets' brand of populist, Midwestern, brawny rock 'n' roll is a sound so effortless, it's easy to take their craft for granted; a sound so universal, yet unmistakably THE BOTTLE ROCKETS. They've crushed rowdy Friday night crowds, convinced sitting audiences to get on their feet, and pulled weary festival onlookers across muddy fields to the front of the stage. With their 12th album, South Broadway Athletic Club, the quartet gives a master class in capturing the beauty of everyday life, and painting a portrait of ongoing hope.
South Broadway Athletic Club is an album full of new experiences for the band. Although they again worked with longtime producer Eric "Roscoe" Ambel (of Joan Jett & the Blackhearts, The Del-Lords, The Yayhoos) it was the first time the group recorded a full album in their hometown of St. Louis, Missouri. Working at Sawhorse Studios, it was also the first time they scheduled sessions in batches over several months, allowing the songs - and the whole album - to fully breathe and unfold. The extended songwriting process not only allowed a gestation period for the music, but also created the opportunity for a new musical collaboration with the Nashville hit-songwriting family The Henningsens, resulting in the song "Something Good." These fresh directions helped focus the band's creativity and energy throughout the recording sessions, adding further dimension to the album.
Sonically, The Bottle Rockets still find the quickest two-lane highway into the bloodstream. There are pulses through the rhythm section of Mark Ortmann's made for FM radio, wall-of-sound drumming and bassist Keith Voegele's deep and shapely lines. They are Missouri's answer to Muscle Shoals' The Swampers - Swiss Army knife players, distinctive and in the pocket. It's honed further with John Horton's classic rock guitar snarl on "I Don't Wanna Know," a song that could otherwise be a Tom Jones classic about a relationship lie. On the speaker-rattling "Building Chryslers," Horton and Henneman ignite a crunchy guitar duel that'd fit nicely on the LP shelf between Dinosaur Jr and Thin Lizzy. The song is a compelling character study told only as The Bottle Rockets can.
Throughout their entire career, The Bottle Rockets have managed to stay true to the rabid music heads as well as casual dial-turning everybodies. After 20+ years, they've come out on the other side stronger and more energized than ever before, proactively writing their own creative arc. Against the odds, the Bottle Rockets are a true American success story. Consequently, South Broadway Athletic Club is an album as relevant as their formative early work; political by not being political, re-affirming our greatest aspirations by focusing on the tiniest of truths.


Processing your request, please wait....