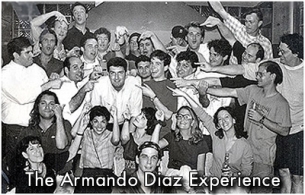 iO Chicago
The Armando Diaz Grand Opening Experience
Friday, Aug 29, 2014 10:00 PM CDT
iO Theater , Chicago, IL

Purchase Tickets
Tickets may still be available. Contact the iO Box Office at 773-880-0199 for more details.
Additional Information
This all-star improv event is the centerpiece of the iO Grand Opening. Featuring over 20 celebrity alumni and core ensemble members from the show that has run at iO every Monday for over 17 years.
In the Armando Diaz Theatrical Experience, a monologuist will tell a series of short stories, each serving as the inspiration for improvised scenes devised and executed on the spot by the most talented comedic performers in the world.
The special celebrity alumni cast of the Grand Opening editions of Armando will include:
David Koechner (the Anchorman series)
Lucas Neff (Raising Hope)
Eric Stonestreet (Modern Family)
Joel Murray (Mad Men)
Jack McBrayer (30 Rock)
Scott Adsit (30 Rock)
Jon Lutz (30 Rock)
Jordan Klepper (The Daily Show)
Kay Cannon (Pitch Perfect)
Tim Meadows (SNL)
Pete Hulne (Brooklyn Nine Nine)
Mike Coleman (Factory)
Pat Finn (The Middle)
Kevin Dorff (Conan)
Brian McCann (Conan)
Brian Stack (Conan)
Amber Ruffin (Late Night with Seth Meyers)
Laura Krafft (The Colbert Report)
Mitch Rouse (According to Jim)
Stephnie Weir (MadTV)
Bob Dassie (Carpet Bros)
Andy St Clair (writer of the USA series "Sirens")
Brad Morris (Cougar Town)
Tim Baltz (Veep)
Seth Weitberg (Drunk History)
Upcoming shows:
Friday, August 29 @ 10:00 PM in the Del Close Theater - tickets are $50
Saturday, August 30 @ 08:00 PM in the The Mission - tickets are $50


Processing your request, please wait....