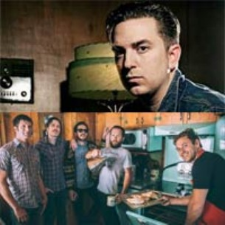 JD McPherson
The Brothers Comatose
Thursday, Sep 11, 2014 8:00 PM CDT
Shank Hall, Milwaukee, WI
21 years and over
Purchase Tickets
Online sales no longer available for this event. Contact venue for ticket info. ph 414-276-7288
Additional Information
Sometimes the most American of settings can reveal the deepest artistic talents the world has ever known. Johnny Cash on the farms of Arkansas, Mike Ness on the mean streets of Los Angeles, and a skinny kid from the ghettos of Tupelo named Elvis who happened to be brimming with soul. JD Mcpherson is one of those talents cut from that same artistic cloth. Growing up in southern Oklahoma, Mcpherson, the progeny of an ex-military, farming father and "good word" preaching mother, Mcpherson had an intriguing childhood and those influences shine blissfully through his music. His sound is raw it feels old, like the hum of a 50s convertible cruising the back roads of the Mississippi delta, but it's new and innovative.While most kids from the sticks heros were rodeo stars and country singers, Mcpherson heard the liberal screech of The Talking Heads and Bad Brains and let it empower him. But the allure of the American Roots Music scene is what made his musical mouth salivate. The honest troubadours of song that roamed from honky tonks to back alley bar rooms that machine gunned a town every night, one song at a time.
---------------------------------
Literal brothers, Alex (banjo and vocals) and Ben Morrison (guitar and vocals) of The Brothers Comatose grew up in a house that was known for its music parties. "The Morrison house was a gathering place for local musicians -- everyone would bring an instrument, call out tunes, call out changes, and just play for hours" says Brothers Comatose bassist and Morrison music party goer, Gio Benedetti. "I learned more in that living room than in any class I ever took." The brothers took this generous, inclusive and rowdy attitude and brought it to stages all over San Francisco. With the addition of members Philip Brezina (fiddle) and Ryan Avellone (mandolin) the string quintet brings their original string music and the feel of an intimate music party to audiences all across the United States.

The environment the band creates with their music and their live shows isn't the exclusive band vs. crowd world of rock and pop, but rather the sing-along, stomp-along, inclusive world that gave birth to string band music. The band -- while playing festivals like Hardly Strictly Bluegrass, Strawberry, High Sierra, Outside Lands, Kate Wolf, and SXSW, - has not lost sight of their roots, their fans and the relationships that have brought them where they are.

Despite their name, the band is anything but Comatose. They toss alligators (inflatable) into the crowd, they hand out chopsticks for audience-percussion-participation, and are known to jump down and play acoustic encores in the middle of the crowd at the end of a set. It's just one, big, extended Morrison music party. Only now, the living room travels via Chevy G20 Conversion Van from state to state.


Processing your request, please wait....