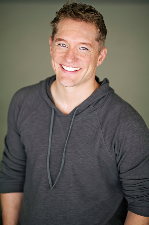 Purchase Tickets
Please call 212-757-4100 to make a reservation
Additional Information
BILL DAWES
"Bill Dawes is an accomplished actor, writer and comic whose heart resides in New York City but whose collection of "interesting" t-shirts resides in Los Angeles.
Bill is back out on the road after the close of his 3rd Broadway show ("Bronx Bombers") in which he played both Mickey Mantle and Thurmon Munson. Before that he starred in another sports drama, the Tony Award-winning "Lombardi," as Green Bay Packers legend Paul Hornung. All while being horrible at ball sports.
In between starring turns on Broadway, Bill has guest starred as a murderer or murder victim on countless hit network shows over the years, including Criminal Minds, Rizzoli and Isles, Law and Order, Damages, and Sex and the City.
His versatility and depth has made Dawes a favorite of directors in the independent film world, where he has appeared in several award-winning independent films, (Adam, Evenhand, and Fiona) and one DVD cult-hit about getting drunk and having sex with the handicapped (I Hope They Serve Beer in Hell).
As comic, Bill has performed in 14 countries, including tours of Iraq, Kuwait, and Afghanistan with the USO. Stateside, Bill has performed at a dozen marine bases and has headlined dozens of clubs, recently the Las Vegas Tropicana -- where he is the most frequent headliner of the past 5 years (much to his liver's dismay). You might currently catch him on AXS TV's "Best of Gotham Comedy Live" if you're one of those weird people who still has cable.
Last month, Bill received rave reviews in a new Off-Broadway play by Steven Belber at the Labyrinth Theatre called "The Muscles In Our Toes," although one reviewer called him a "doofus with a flat-top." He is currently working on a musical about the miserable life of comics called "HA! The Musical," which was made even more miserable with Bill's singing voice. He also just shot something with MTV which airs some time soon, but he's slightly embarrassed by it so he won't mention the details, but hey, he's working, dad!
-- Nils Parker, writer/producer of the film "I HOPE THEY SERVE BEER IN HELL."
For groups of 12 or more, please call (212) 956-0101 x203


Processing your request, please wait....