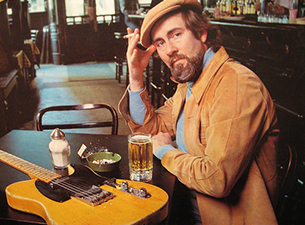 Purchase Tickets
Pre-sale tickets are no longer available for this event. Tickets will be available at the door, or contact our box office at 212-582-2121 for further information.
Additional Information
Roy Buchanan Birthday Tribute, Featuring: Jim Weider and GE Smith
Buchanan's 1962 recording with drummer Bobby Gregg, nicknamed "Potato Peeler," first introduced the trademark Buchanan "pinch" harmonics. An effort to cash in on the British Invasion caught Buchanan with The British Walkers. In the mid-'60s, Buchanan settled down in the Washington, D.C., area, playing for Danny Denver's band for many years while acquiring a reputation as "…one of the very finest rock guitarists around. Jimi Hendrix wouldn't take up the challenge of a 'pick-off' with Roy." The facts behind that claim are that in March 1968 a photographer friend, John Gossage gave Buchanan tickets to a concert by the Jimi Hendrix Experience at the Washington Hilton. "Buchanan was dismayed to find his own trademark sounds, like the wah-wah that he'd painstakingly produced with his hands and his Telecaster, created by electronic pedals. He could never attempt Hendrix's stage show, and this realization refocused him on his own quintessentially American roots-style guitar picking."
Buchanan's life changed in 1971, when he gained national notice as the result of an hour-long PBS television documentary. Entitled Introducing Roy Buchanan, and sometimes mistakenly calledThe Best Unknown Guitarist in the World, it earned a record deal with Polydor Records and praise from John Lennon and Merle Haggard, besides an alleged invitation to join the Rolling Stones(which he turned down). He recorded five albums for Polydor, one of which, Second Album, went gold, and after that another three for Atlantic Records, one of which, 1977′s Loading Zone, also went gold. Buchanan quit recording in 1981, vowing never to enter a studio again unless he could record his own music his own way. Four years later, Alligator Records coaxed Buchanan back into the studio. His first album for Alligator, When a Guitar Plays the Blues, was released in the spring of 1985. It was the first time he had total artistic freedom in the studio. His second Alligator LP, Dancing on the Edge (with vocals on three tracks by Delbert McClinton), was released in the fall of 1986. He released the twelfth and last album of his career,Hot Wires, in 1987.


Processing your request, please wait....

ROY BUCHANAN BIRTHDAY TRIBUTE
featuring
Jim Weider
and
GE Smith
with
Byron Isaacs
,
Brian Mitchell
and
Randy Ciarlante