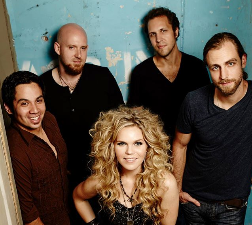 Natalie Stovall & The Drive
Friday, Jul 25, 2014 9:00 PM EDT (8:00 PM Doors)
Asylum, Portland, ME
18 years and over
Purchase Tickets
We're sorry, there are no tickets currently available through TicketWeb.
Additional Information
Show-stopping singer Natalie Stovall's high-energy, take-no-prisoners live performances and relentless, barnstorming global tours have earned her the attention she deserves from those who matter the most to her -- the fans.
After only a few short years in the college campus market, Natalie was named 2012 Entertainer of the Year by the voters of Campus Activities Magazine® in the Reader's Choice Awards. Blending her country/roots background with a strong rock sensibility, Stovall's fiddle-shredding shows are bred for wide audiences, and this year that mainstream popularity is paying off in a big way. In fact, it's the first time in over twenty years that a woman has been named Campus Entertainer of the Year in a category usually dominated by male artists.
"My friends and family think I am crazy to tour like I do," says Natalie. "In April 2012, we literally played 32 dates in 30 days! But performing is what I love most. As soon as I graduated college, I put my band together and hit the road."
Natalie has been playing professionally since she was ten, and by the time she graduated high school she had already performed everywhere from the Grand Ole Opry to the Oprah Winfrey Show. And since she put her first band together (in 2007), things have really begun to take off. "I still can't believe it sometimes when I think of everything we've gotten to do these last few years," says Natalie. "I've been working at this dream my whole life, and every day I get to see it coming true inch by inch, all around me."
Natalie's reputation for lighting up the stage has made her a favorite to warm up audiences for country stars such as Dierks Bentley, Josh Turner, Gretchen Wilson, Justin Moore, Josh Gracin and many more. Even more impressive, Natalie's genre-defying live show has put her on stage supporting non-country acts like Switchfoot, the Doobie Brothers, Styx, and Safetysuit.
"It's funny to me when people ask me whether I consider my music 'country' or not," Stovall says. "I grew up in Columbia, Tennessee playing fiddle at Opryland every day, so I am country. But I was a child of the radio as well, and once I put my fiddle down for the day I was just as likely to be listening to Michael Jackson or Aerosmith as I was to Reba and Faith. I'm sure my music and my show reflect that, and that's who I am. The thing I hear most from people is, 'I normally don't like country music, but you just changed that,' and that makes me feel like I'm doing something right."
Stovall and her band have also traveled the world the past few years playing shows for the military on bases across the globe. "My daddy is a retired Army Colonel." reveals Natalie, "So it's always been important for me to give something back to the troops and their families when I can, but the tours we do for the military are far from selfless. A lot of the best shows and best crowds I've ever played for have been for the military. And how else on earth could a 5'2" fiddle player from Columbia, Tennessee ever have the chance to land on an aircraft carrier, drive a Navy SEAL boat, or shoot a machine gun? I feel like I get more out of those tours than the troops ever could, but as long as they keep asking – I'll gladly keep performing for them."
It's amazing to think that Natalie has accomplished so much already in this era without the help of a record label or TV show. But, as Natalie proudly proclaims, "If you're willing to work hard enough, you can accomplish anything……and we're just getting started."


Processing your request, please wait....