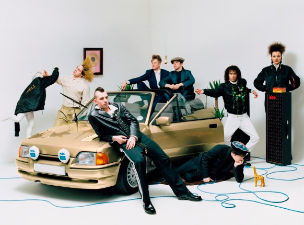 Thalia Hall
Jungle

/

Empress Of

Wednesday, Oct 08, 2014 9:00 PM CDT (8:00 PM Doors)
Thalia Hall, Chicago, IL
17 years and over
Purchase Tickets
Tickets are no longer available online, but you can purchase them at the door for tonight's event.
Additional Information
It's the hottest day of the year. Slender bodies swaying in the heat haze. You're on a beach, but it's more than a beach – the colours are brighter, the sunlight warmer, the cool sea a more psychedelic shade of turquoise. And somewhere nearby there's a band playing…
This is where Jungle want to take you. An infinite holiday, a place called bliss, a great escape from the grey and the everyday – because, as aesthetes from Oscar Wilde to Pharrell Williams knew, there is nothing so serious as fun and nothing as subversive as happiness.
There is no blueprint to Jungle's irresistible, life-enhancing, report-to-the-dancefloor sound but there are many ingredients. It's P-Funk and 'Grand Theft Auto', it's Curtis Mayfield and 'Tron', it's the Beach Boys and Joy Division and Marvin Gaye and Can, all cut up and refracted in a London neighbourhood where anything can happen.
Those with long memories might detect a resurrection of A Certain Ratio or Chakk's fractured funk here. But for most of Jungle's growing and increasingly fanatical crowd it's not about the history. It's about a remedy for overstuffed pop and bloated stadium house and dull social realist rock. It's about getting back to the groove.
And behind the rising buzz – the BBC Sound of 2014 nomination, the 4 millions plus plays of the 'Platoon' video, the US tour that sold out on the back of their SXSW appearance before Jungle even had an official record out in America – it's a DIY story. Working from their home studio in Shepherd's Bush, the core Jungle duo known only as J and T set out their store long before they came on any label's radar with a brace of handmade mini-classics. A couple of singles – 'The Heat''s supple 4am soul snap, the ice-cold search-and-destroy beats of 'Platoon' – connected 2014 and 1974, London with Rio and New York, the feet with the unconscious mind.
Adding to the buzz and mystique were game-changing videos, made by the band and their mates, featuring skaters the High Rollaz and a stunning 6-year old breakdancer called Terra. They racked up major views on YouTube and spread the word far beyond the music hardcore that here was something different. Inscrutable press photos compounded the intrigue, suggesting that there might be two people in Jungle or there might be thirty. Who could tell? Like their sonic ancestors Public Enemy or The Art Of Noise, Jungle were a delicious riddle, an enigma with attitude.
Now perhaps some explanation is in order. We can reveal that J and T are a pair of sound obsessives called Josh and Tom, sharp and meticulous West Londoners who each play "pretty much everything" and tend to finish each other's sentences too. "The initials weren't a big deal, they're just our nicknames," explains T. "We weren't trying to hide ourselves, but we didn't want the whole thing to be about us. We wanted it to be about at the music."


Processing your request, please wait....