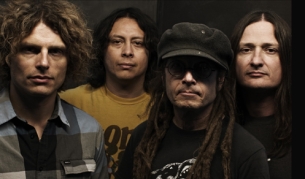 Bottom Lounge
Off!
Saturday, Oct 27, 2012 9:00 PM CDT (8:00 PM Doors)
Bottom Lounge, Chicago, IL
17 years and over
Purchase Tickets
We're sorry, there are no tickets currently available through TicketWeb.
Additional Information
Then: Summer of '78. The LAPD overreacts—again. Black-and-whites line Santa Monica Boulevard. Cherry tops and blues. A band seemingly named after an insecticide plays a show that gets "out of control." Cigarette burns and disturbing the peace. Half-full beer cans as the missiles of youthful discontent. Mom and dad are at home, transfixed by the usual: Dallas. Saturday Night Live. Monday Night Football. Say what? Shut it down. Truncheons. Bloody noses. Broken bones. Toss 'em in the paddy wagon and let the desk sergeant sort 'em out.

Now: 1200 people crammed into a space built for 250. Raymond Pettibon art and free beer. The LAPD descends as if on cue. Black-and-whites line 6th St in downtown Los Angeles. A band named after an insect repellent plays a show that gets "out of control." 18 minutes on a skate ramp and see ya later. It sounds like '78 and smells like the real deal. The attitude is there. And that one guy up front? He looks mighty familiar.

Then AS Now: You know the names and pedigrees. Keith Morris (Black Flag, Circle Jerks), Dimitri Coats (Burning Brides), Steven McDonald (Redd Kross) and Mario Rubalcaba (Hot Snakes/Earthless/Rocket From The Crypt) are OFF! They are the force and spirit of L.A. punk circa '78 resuscitated, reconstituted and re-imagined for a similarly uncertain age. The band released their debut 7", 1st EP, in October of 2010. Three more would follow, all ultimately assembled in the First Four EPs vinyl box set & CD compilation: 16 tracks in just over 17 minutes, featuring inimitable cover art by Raymond Pettibon, the man & artist behind Black Flag's visual mystique. The critical acclaim poured in—Pitchfork, NPR, the L.A. Times, etc.—followed by a slot on the prestigious Coachella Music Festival in Indio, CA, and riotous US, European, and Australian tours.

Now AS Now: If 2012 really is the end, the members of OFF! are determined to go out kicking and/or screaming. But preferably both. As such, they've written their first "proper" full-length for release in May via Vice Records. Simply & effectively entitled OFF! and once again featuring cover art courtesy of the always-masterful Pettibon, the record was written and recorded at lightning speed, the only speed at which OFF! know how to operate. Produced by Dimitri Coats at Kingsize Soundlabs in L.A., OFF! clocks in at a grand total of just under 16 minutes, each more pissed-off than the last. "Even though we have the luxury of taking a long time with things, we'd rather be true to the spirit of the way things used to be," Coats explains. "By putting yourself in those situations, an urgency is created, and that's very much what we're after."

"There's a lot of soul in this," he concludes. "We're not fucking around."


Processing your request, please wait....