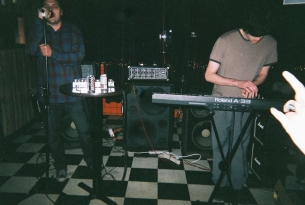 mPshows.com Presents
Ball Drop


/

King Tuts Tomb

/

Elliot Reed

/

The Flesh Pets

/

Marcel Marcel

Saturday, Aug 04, 2012 8:00 PM CDT (8:00 PM Doors)
- Sunday, Aug 05, 2012 12:00 AM CDT
Township, Chicago, IL
18 years and over
Purchase Tickets
We're sorry, there are no tickets currently available through TicketWeb.
Additional Information
Ball Drop: 2 piece electronic doom gaze from Logan Square. Cult following.
Starting in Humboldt Park in late 2008, King Tuts Tomb has played at many bars, basements and DIY spaces. Their music is a surging genre blend with elements of Post-Punk, Shoe-gaze, Hardcore, and Electronica. With recordings in the Low-fi "home recording" spirit of R. Stevie Moore, their material defy's all conventions of professional musical output. After two self released albums and one tape put out by Teen River, King Tuts Tomb has only just begun it's rock'n roll crusade.
We are The Flesh Pets, We ride trains to indian reservations,breed rare forms of dingos,drink olive oil by the bottle and get onto the bus.
The Flesh Pets fully support you embracing your own humanity and fighting those who feel they are above they're own.
We've spoke only to the nose and chin of those in power that decide our future and we are being poorly reperesented.
Politicians piss away our jobs and resources, bad friends put you in a social heirarchy based on possesion, the Clear Channel media shoves harmless
sheep music into your ears, and its time for something real. WE ARE THE FLESH PETS AND SO ARE YOU. This music is for you, there are no scenes attached to this music, there is no dress code, and the only rule is do and dress like you want and not in reguards to society or Tommy Hilfucker. Your in a house, the furniture and tapestry is red. Your tied to a chair and the room is webbed with neurons that when lit, look like the galaxy on a ceiling. Cigarette burns begin to appear on your arms, chants erupt from the surrounding rooms and your head is wrapping around those words... This is what its like to hear The Flesh Pets.
Marcel Marcel are very serious artists. They met on the internet after throwing off the yoke of their domineering father - a wizened oil man. He taught them winners never shiver. Their music sounds like My Bloody Valentine covering the Soft Boys, or that episode of Small Wonder when Vicki gets hooked on smack. Their music sounds like being paranoid on the bus.They live in Chicago. Their lives are in shambles.


Processing your request, please wait....