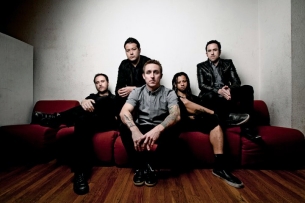 Soda Jerk Presents
Yellowcard


with

The Wonder Years

/

We Are the In Crowd

Tuesday, Nov 27, 2012 6:30 PM MST
The Summit Music Hall, Denver, CO

Purchase Tickets
We're sorry, there are no tickets currently available through TicketWeb.
Additional Information
Getting an opportunity to make an impact by playing music is a dream for many bands. But getting a second chance, according to Yellowcard frontman Ryan Key, is a blessing.

Yellowcard returned to the spotlight in 2011 after a three-year hiatus with the energized When You're Through Thinking, Say Yes. The album was a renaissance of sorts for the Jacksonville natives, as its 10 tracks played out like the band never spent any time apart. A logical progression from 2007'sPaper Walls, the group managed to capture elements of its entire discography with the album, which was welcomed by patient fans and praised by critics alike. Say Yes inspired a winding nine months of touring that took the band to over 30 different countries, a world tour that served as a reconnection with old, diehard fans and an instant way to reach new, younger listeners.

"The tours we got to do last year, the bands we got to tour with, were incredible," Key says. "We wanted to stay current and matter to younger fans, because making new fans is important to us, and at the same time, we didn't want to turn our back on our old fans because they're essential to our existence. We couldn't make new fans without our old ones? When you're at a Yellowcard show if you're not a fan, you look at someone who is and think, 'Why am I not a fan of that? Why am I not enjoying this like that person is? I want that.' That's amazing for us."

The extensive touring schedule in support of Say Yes was more inspiring than exhausting. The band that put out the acclaimed Ocean Avenue (2003) nearly a decade ago, and fan favorites Lights and Sounds (2006) and Paper Walls (2007) after that, was still feeling energized and ready to move. "We got back from tour and we were still so excited about doing this," Key says. "We wanted to keep the ball rolling." So Key, violinist Sean Mackin, guitarist Ryan Mendez, new bassist Josh Portman and drummer Longineu Parsons decided to head back into the studio with almost no time off to record a new album.

"We're better at balancing the band and our personal lives than we have ever been before, and part of that comes with being 30 years old and not 20," Key says of the band's desire to keep its momentum going. "We all want to work together more than we ever have, and that's what drove us back together after being away from each other for three years." The decision to get back into the studio so soon brought along some pressure at first, but Key says that was all self-induced. "After a while, we decided, 'This is what we do. We know exactly what we're doing, let's sit down and write some music.'"

The resulting album, titled Southern Air, will be Yellowcard's sixth studio effort and second for Hopeless Records. And according to Key, it was the easiest writing and recording experience of the band's decade-plus long career. He describes a "brotherhood" that he shared with Mendez, Mackin. LP, and long-time producer





Processing your request, please wait....