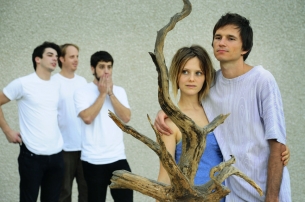 Howlin' Wolf
In the Den :Alexis and The Samurai+ imagineIAM + England in 1819
Friday, Aug 24, 2012 8:00 PM CDT
- Saturday, Aug 25, 2012 12:00 AM CDT
Howlin' Wolf, New Orleans, LA
18 years and over
Purchase Tickets
We're sorry, there are no tickets currently available through TicketWeb.
Additional Information
BIO
imagineIAM is created by Chad Faulk, self taught drummer and composer known for his unique and rhythmatic vocal stylings and postmodern use of organic instrumentation. His solo record released through Hand on the Plow in 2009 took critics around the world by surprise and gave rise to an entirely new concept of originality. Faulk has composed and produced over 10 self-released albums under 6 different names since 2000.

In 2008 Chad began working with classically trained pianist Carolyn Scalfano. Together they began morphing Chad's mouth melodies into music orchestrated for a 5 piece arrangement, with each member of the group performing multiple duties including hyper-syncopated percussion, intricate instrumentation, and vocals. As dual lead vocalists, Carolyn and Chad engage the audience with vibrant and charming personality. The result is a jamming live performance filled with "utterly catchy melodies" and "assaults of percussive madness", known to "leave your head spinning and your face grinning at the lunacy of it all."


record reviews of "merry go round" ep on hand on the plow records
"I guarantee you will be blown away by the fresh, completely
unclassifiable sounds of this young artist."
-Anji Bee, California

a single style in its kind. Something which transcends even the concept of the originality...an unclassable artist...prove to us that to make different music and really planing is always possible today.
Still Music, France

The best, most exciting, arresting and fascinating track of the year. For me. At least. – ImagineIAM, Merry-Go-Round.
So I hail what I think is the most different unique and strange artist I have heard this year. I heap and lavish praise upon something so out of the ordinary, and so immediately present...instantly became my most loved new artist. The shock of hearing something so obviously dance music, but also so violently arrhythmic (well, poly rhythmic probably) and personal...It's childish playground yelling, banging a loud drum and just showing pure excitement. The fact that it all hangs together into something real in interesting, that makes it genius. This is brilliant stuff...incredible, inspiring and really fucking odd.
Alabaster.Wordpress - UK

...The hyper-syncopated rhythms of opener 'Merry Go Round' could be geographically located somewhere between NY freak indie from Gang Gang Dance/Animal Collective, charged West African tribalism and Brazilian favela funk, (which would dump it somewhere in the middle of the Atlantic)... ...somehow combines quasi Derek Bailey-ish guitars with a menagerie of vocal exclamations and clattering percussion to once again leave your head spinning but your face grinning at the lunacy of it all. Expect the unexpected
-Boomkat, UK

Freaking weirdo avant indie pop tunes
-Hardwax, Germany

Imagine Animal Collective were obsessed with Liquid Liquid instead of Beach Boys: psyche freak funk lunacy...
...no wave shamanic disco jams...
-Joe Muggs (The Wire), UK


"Pure class EP. The Hand on the Plow boys did well in grabbing this
guy. This is going to be one of those Eps sought after by many for a
long time to come."
-Fun In The Murky, Canada


Processing your request, please wait....