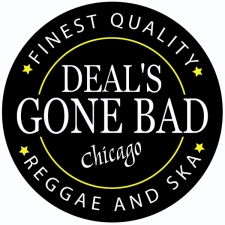 Pyramid Scheme
Deal's Gone Bad


+

The Amoebas

+

Sailor Kicks

Saturday, Sep 08, 2012 8:00 PM EDT
The Pyramid Scheme, Grand Rapids, MI
18 years and over
Purchase Tickets
Tickets are available at the door!
Additional Information
Deal's Gone Bad return to Grand Rapids to headline the Pyramid Scheme for the first time. The band is currently putting the finishing touches on a new album so you can expect to hear many new songs, in addition to many crowd favorites from their last album, "The Ramblers". This event is also Jim Hofer(Mustard Plug trombone player) and Becky Lawrence's official wedding after party!!!
Jim and Becky LOVE DGB and wanted to extend their wedding reception to include a party that features some of their favorite bands ever. In addition to Deal's Gone Bad, GR punkers, The Amoebas will be playing. The Amoebas have been busy recording songs for a several 7" releases and always tear up the house. Rounding out the bill are Sailor Kicks one of the best new bands to hit the GR scene. Tickets are $8. 18& over show. Doors at 8pm.
recent press:
The Onion:
By nature, the reggae genre can be limiting, at least instrumentally. That's why Deal's Gone Bad kicks ass. It finds a way to stick to the stagnant, three-chord structure of the genre while infusing a classic soul energy. In other words, its music is a lovely contradiction. Like what happened when someone found out sweet and sour can complement each other, Deal's Gone Bad figured out laid-back reggae riffs can be balanced out with the fast-paced vocality of 1960s R&B. The effect isn't as heavy as ska. Rather, it's mellow but still energetic. Instead of coming off like yet another old-school mimicry lost in time, the band does something a little different does it very well.
Alternative Press
Far From Home 7" Review
****(four out of five stars)
"Far From Home," the first original song from Chicago ska septet Deal's Gone Bad in four years, dials into the Stax Records sound with its brassy horn arrangements, wailing keys and thumping bass line. Vocalist Todd Hembrook sings to the feeling of a greater calling away from his hometown, even when his greatest supporters are all around him. On the B side, the band pay homage to one of their greatest influences, Otis Redding. This take on "These Arms Of Mine" puts the band's signature reggae spin on the timeless soulful ballad. Adding swift guitar upstrokes along with a few improvised horn and keys solos to accompany Hembrook's crooning makes this reinterpretation a unique tribute to a legendary artist.


Processing your request, please wait....