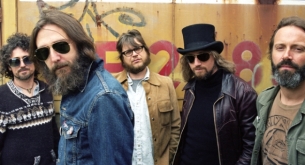 The Black Sheep & Soda Jerk Presents
Chris Robinson Brotherhood


with

Special Guests

Friday, Sep 14, 2012 8:00 PM MDT
Black Sheep, Colorado Springs, CO

Purchase Tickets
We're sorry, there are no tickets currently available through TicketWeb.
Additional Information
In 2011, after more than 20 years of intense gigging and recording, Chris Robinson set off to shape something new, a fresh rock mythology, a breathing kaleidoscopic thing stuffed with chooglin' soul, bedrock boogie and shuffling wisdom birthed in intimate clubs and amongst the tall trees of the Golden State and eventually taken nationwide as the Chris Robinson Brotherhood evolved. What began as an experiment without expectations turned into a 118-show journey for Robinson (lead vocals, guitar), Neal Casal (guitar, vocals), Adam MacDougall (keys, vocals), George Sluppick (drums) and Mark Dutton (bass, vocals) that surprised these seasoned pros as music of unshakeable solidity and exuberant reach poured out of them, a New Cosmic California sound with tendrils reaching to the original Fillmore West, Topanga Canyon and outwards towards far horizons that finds its fruition on the CRB's studio debut Big Moon Ritual (arriving in June), to be followed by companion album The Magic Door (September).

For a full year, the CRB road tested their ideas, and in the process turned into an empathetic, limber congregation of talents, something different than any of their previous work with the likes of Phil Lesh & Friends, Ryan Adams & The Cardinals and JJ Grey & Mofro. By the time of their sold-out four-night run at San Francisco's Great American Music Hall last December, the Brotherhood were fully switched-on. This is the band that entered Sunset Sound in Los Angeles in January 2012, setting up shop in Studio B and coming out the other side of a six-day session with 27 different songs with 97 takes, most of it captured straight off-the-floor with only minor enhancements after the fact.

"Part of the master plan was not to do anything besides touring the wheels off the thing for the first go-around, and it worked for us and allowed us to figure out who we were," says Robinson. "One of the best things about the lack of a proper music business is if you have an idea, you can do something. If everybody is on the same page, and it's not about the dough on the table, and it's really about something you believe in, then you can get there."

"It's about being boutique," says Robinson. "If before you wanted to have a million people hear what you do, now we're making music the right way for the right people. When we got to these cool sonic spaces we took advantage of them. It was totally the most radical recording session I've ever done, especially in terms of aesthetics."

Thom Monahan (Vetiver, Devendra Banhart, Papercuts) produced the record. "Thom and I have wanted to work together for a long time," says Robinson. "We talked about it at a show in Los Angeles and I told him as we stood behind George's drums, "This is it (gesturing at stage gear). We're not bringing anything else with us into the studio. This is what brought us here this year, so this is exactly what this is gonna be. We didn't even change strings from the last Cali run [laughs]."

The Chris Robinson Brotherhood is also a torchbearer for rock's 1950's roots, tapping the catalogs of greats like the Everly Brothers and Elvis Presley for their ever-changing cover tune selections-and this band does have a way of truly inhabiting the work of others.


Processing your request, please wait....