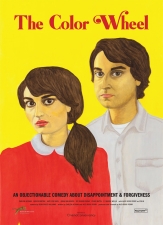 Facets Cinematheque
The Color Wheel
Saturday, Jul 28, 2012 7:00 PM CDT
Facets Cinematheque, Chicago, IL

Purchase Tickets
We're sorry, there are no tickets currently available through TicketWeb.
Additional Information
The Color Wheel is a misanthropic comedy from co-writers/co-stars Alex Ross Perry and Carlen Altman, two of the most distinctive new voices in American cinema. In beautifully grainy black-and-white 16mm, this is a comedy of pettiness and failure that ultimately sneaks in a hefty emotional wallop during a transformative road trip. JR (Altman), an aimless post-collegiate with vague ambitions towards being a TV newscaster, has just been dumped by her professor/lover. With no one else to turn to, she asks her estranged, contemptuous brother (Perry) to provide moral support while she picks up her stuff. Problem is, these obnoxious grown up kids do not get along, and no one else in the world can stand them, either—not Colin's neglectful girlfriend, not JR's former friends, not the strangers they clash with at pretty much every step of their hopeless and increasingly infuriating voyage of frustration, failure and jerks.

Both failing in different yet complimentary ways, they embark upon a weekend of sibling bonding that neither would have ever expected, in a hopelessly complicated relationship. It can only be a matter of time before JR and Colin arrive at the strangest and most unsettling of resolutions and put to rest their decades of animosity, half-baked sibling rivalry and endless bickering. Extremely funny and filled with characters who are simultaneously broad and deep, The Color Wheel walks many tonal and stylistic balancing acts. A comedy to be sure, but an exceedingly strange one, or better yet, described by the director as an "objectional comedy about disappointment and forgiveness."

Directed by Alex Ross Perry, U.S.A., 2011, 35mm, 83 mins.

Official site New York Times New York Times: director interview New York Magazine

Village Voice Slant Magazine



Processing your request, please wait....