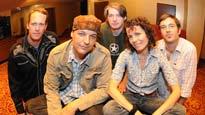 Additional Information
Donna the Buffalo's feel-good, groove-oriented, danceable and often socially conscious music all began over twenty years ago with roots in old time fiddle music that evolved into a soulful electric Americana mix infused with elements of cajun/ zydeco, rock, folk, reggae, and country. Donna the Buffalo is known for touring the country remaining fiercely independent as one of the industry's most diverse roots-music bands and has "earned a reputation as one of the most respected, eclectic and hardest-working acts today," praises Encore.
"Donna the Buffalo is in the enviable position of being a homegrown entity, a group that finds itself outside the coloring lines of the accepted formula, a formula that is now in the past tense...People doing what they love, and better, sharing that passion to the benefit of the public, is the strongest business formula ever written. Donna the Buffalo is living proof of that." states Beat Magazine. The Nashville Scene writes, "Folkies with a superior sense of rhythm are rare enough, but folkies with a good beat and a healthy disrespect for eclectic clichés are a national treasure....they've never sounded better..."
The dynamic songwriting tandem of vocalists Jeb Puryear and Tara Nevins have penned over 180 songs in their collaboration with DTB and have many more in the making. Although never writing a set list for live show, the Erie Times notes, "they stick to a pattern...usually alternating between Puryear's rhythmic, Dylan-influenced, guitar-centered songs and Nevins' breezy, melodic, accordion-driven gems like the folksy Tides of Time and infectious Locket and Key." As of late, Nevins and Puryear have also been known to perform as a duo on air and on select songs at live shows, which is always enjoyable to the fans to hear their favorite DtB songs in stripped down arrangements.


Processing your request, please wait....