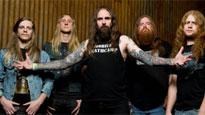 Soda Jerk Presents
Skeletonwitch


with

Havok

/

Mutliation Rites

Friday, Nov 09, 2012 7:00 PM MST
Marquis Theater, Denver, CO

Purchase Tickets
We're sorry, there are no tickets currently available through TicketWeb.
Additional Information
"SKELETONWITCH has been called every name in the fucking book: death metal, black metal, thrash metal, speed metal, heavy metal, epic viking blackened thrash 'n' roll, and so on. It seems the only description everyone can agree on is 'metal,'" says guitarist Scott Hedrick, "and that suits us just fine."
Indeed. Like Satan himself set loose in the hallowed halls of heavy metal, these Athens, Ohio-based headbangers careen wildly through the music's history, gleefully destroying and setting flame to every genre along the way, only stopping at the forefront of today's metal scene to look back and watch that fucker burn -- and then piss on the flames. No other band has tapped into the fire, fury, and frost of all things metal like SKELETONWITCH.
Their latest slab of savage, molten metal, Forever Abomination (out in October on Prosthetic Records), is a testament to their refined craft, honed through years of hard work and relentless touring. "We live and breathe this shit!" exclaims Hedrick. "We tour as much as humanly possible, and when we're home we write. There's technically no such thing as 'time off' when you're in The 'WITCH".
And it shows. On Forever Abomination, SKELETONWITCH's unique blend of metal was given a kick in the ass by Matt Hyde (Slayer, Hatebreed), who produced and recorded the album. The group's carefully crafted tunes and technical mastery are brought to the forefront by Hyde's monolithic production.
Main songsmith and epic riff-merchant, Nathan Garnette, has carved out the most unique batch of SKELETONWITCH tunes to date, while vocalist Chance Garnette has outdone himself again, sounding like he was barely able to contain his inner demons long enough to track the vocals. Bassist Evan Linger plays like a possessed Steve Harris, if Harris actually knew what the fuck black, death and thrash metal were. Guitarist Scott Hedrick's lead work displays musicality and feeling rarely seen in extreme metal, and all of this is enhanced by SKELETONWITCH's newest addition, drummer Dustin Boltjes (Demiricous).
"Dustin is a fucking animal!" says Hedrick. "He stepped up to the plate and took these songs to another level with his relentless style of playing. He really drives the songs more than anyone we've ever played with."


Processing your request, please wait....