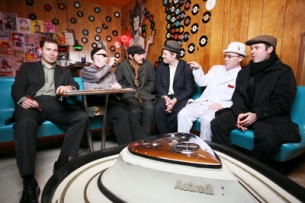 The Bell House
The Slackers

,

Christmas Celebration


with

the FRIGHTNRS / Sammy K / Caz & The Day Laborers

plus

DJ 100dbs and DJ Small Change

Saturday, Dec 22, 2012 8:00 PM EST
The Bell House, Brooklyn, NY
21 years and over
Purchase Tickets
Tickets are no longer available here. Visit www.thebellhouseny.com for tickets.
Additional Information
The Slackers
are 20 years old! Its hard to believe it but the scrappy little band from New York City has been spreading their gospel of "Jamaican Rock N Roll" for 20 years now. While they have been influenced, and even personally taught by Jamaican ska/reggae originators, like the Skatalites and the Upsetters (Original backing band for the Wailers), the band sees its music as an extension of the traditions of the United States. Basically, this band is equally appreciative of old blues, country, 60s soul, rock, and Rnb as it is of reggae, rocksteady, dub, and Ska. It is as if the Rolling Stones or the Yardbirds had grown up on Bob Marley as well as Muddy Waters
To celebrate their 20th year in operation, the Slackers have put out Stashbox, a compilation of fan favorites from 1991 through to 2010.
Smashing the stereotypes of "ska" as happy,uptempo, and shallow music, the Slackers play with an aggressive edge and their songs veer in themes from the personal to the political. Back in 1996, the NY Times declared the Slackers to be part of "the sound of New York", a mantle they haven't given up since. Ten years later, Alternative Nation stated that their music is "protest music made for dim, sweaty basements, The Slackers would sound at home supporting Rancid as well as some grizzled New Orleans electric blues trio." The LA Weekly wrote about, "their unfettered energy, unerring skankability, and playful anger."
The Slackers can out jam any hippie band and outwrite most singer songwriters. From their 1996 release, Better Late Than Never through to 2010 with The Great Rocksteady Swindle, they have established themselves as America's premiere interpreters and innovators of Jamaican music and a pretty good rock band to boot.
For their 20th anniversary, the band has put together a 'fan favorites' cd called Stashbox. This cd was curated by Ruggiero and features 20 songs that were taken from a poll that received just under 1,000 responses.


Processing your request, please wait....