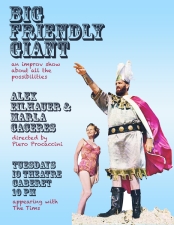 iO Chicago
Big Friendly Giant

and

TIM

Tuesday, Aug 28, 2012 10:00 PM CDT
iO Theater , Chicago, IL

Purchase Tickets
Contact the iO Box Office at 773-880-0199 for more details.
Additional Information
TIM
A completely ridiculous, thrillingly breakneck, delightfully twisted improvised show by a rotating cast of ten veterans from Annoyance Theatre, ComedySportz, IO, and The Second City who by sheer coincidence just all happen to be named "Tim".
Starring: Tim Baltz, Tim Chidester, Tim Mason, Timmy Mayse, Tim Robinson, Tim Stoltenberg, Tim Whetham, Tim Ryder, Tim Sniffen, Tim Paul
Big Friendly Giant
Two iO veterans present a playful and energetic show for your enjoyment. Alex and Marla repeat a scene multiple times, twisting and re-envisioning it until they squeeze out every last drop of hilarity. Imagine putting fruit in a juicer, except that improv is the fruit and Marla the juicer and Alex I guess a second juicer and then the juice is fun and laughter.
Starring: Marla Caceres, Alex Eilhauer
Tuesdays @ 10:00 PM in the Cabaret Theater - tickets are $5


Processing your request, please wait....