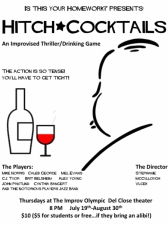 iO Chicago
Hitch-cocktails
Thursday, Aug 23, 2012 8:00 PM CDT
iO Theater , Chicago, IL

Purchase Tickets
Contact the iO Box Office at 773-880-0199 for more details.
Additional Information
"Hitch-cocktails" is a mystery show where even the actors don't know how it's going to end.
It starts with an audience suggestion, than the players will create a full length thriller in the style of Alfred Hitchcock. There could be murder, car chases, gun play, beautiful woman, exciting music and drinks…plenty of drinks. Since this is high class crime, the stage is complete with a wet bar and the actors will be forced to partake as the plot develops. By the end of the show, you might not be able to stand the suspense and the actors might not be able to stand at all.
The show will also feature a live jazz band and a few parlor games so the audience may join in on the "refreshments."
Cast: Brit Belsheim, Caleb George, C.J. Tuor, John Pantlind, Mel Evans, Alex Young, Mike Norris, Cynthia Bangert
Director: Stephanie McCullough Vlcek
$10


Processing your request, please wait....