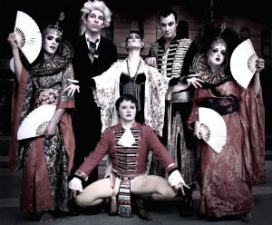 Tipitinas
Amanda Palmer & The Grand Theft Orchestra


plus

The Simple Pleasure

plus

Jherek Bischoff

plus

Ronald Regan

Monday, Sep 17, 2012 8:00 PM CDT Doors
Tipitina's (Uptown), New Orleans, LA
18 years and over
Purchase Tickets
We're sorry, there are no tickets currently available through TicketWeb.
Additional Information
Amanda Palmer can't remember a time when she didn't imagine being an artist, performer, and provocateur. Growing up in bucolic Lexington, Massachusetts, little Amanda spent her Saturdays dreaming up imaginary street fairs, great kaleidoscopes bursting with color and sound and people swirling around her.

"I spent lots of time drawing flyers for events that never existed," Palmer says. "I would plan everything late at night in my room, conjuring up the most incredible, magical event on the planet, imagining everyone in the town would come and eat the candy, ride the bizarre rides that my friends and I would create, and buy the art that I would draw, so that I would never need to rely on my parents for an allowance again. At nine I was already fantasizing about throwing the ultimate party."
"Being a musician or rock star seemed like the most obvious 'real' job that would line up with that dream," she muses. "I think that's why I turned to music. The rock stars I was idolizing on MTV seemed to have the most leverage when it came to art-party-throwing."
But as anyone who's ever seen or heard Palmer – whether raising eyebrows and attracting onlookers as The Eight Foot Bride living statue in Cambridge's Harvard Square, delivering dramatically direct, wildly theatrical performances as one half of the cabaret-punk duo The Dresden Dolls, or, most recently, as a solo artist whose uncompromising vision has frequently made her a flashpoint for both admiration and controversy – will attest to the fact that being a musician and rock star is not merely a job, and never has been.
Instead, Palmer is her art. And, in turn, her art is an extension of who she is, and is always becoming: a voracious seeker of creative catharsis and emotional release, a bold participant in games of truth or dare (she always opts for both) on a life-sized stage, and, above all, an utterly un-categorize-able work-in-progress. She's a fearless singer and songwriter, of course, and an audaciously expressive pianist who simultaneously embraces – and explodes – traditional frameworks of composition.

She's collaborated with indie pop pianist Ben Folds (who produced her most recent solo work Who Killed Amanda Palmer) and teamed with acclaimed author Neil Gaiman for a storybook of photography that beautifully expands the conceptual and narrative ideas outlined in her ambitious solo album. She created an ambitious 12-video DVD project to match each song of the record with filmmaker Michael Pope, and continues to post so-called "Karaoke Verité" lip-dub videos of other musicians' work on YouTube. She helped conceive and co-write an adventurous theatrical work, "The Onion Cellar" with the American Repertory Theater and played front-woman at Symphony Hall with the legendary Boston Pops. Then there's a hotly anticipated record by the conjoined twin sisters, Evelyn and Evelyn, that she's planning to co-produce with powerhouse performer Jason Webley, a close (though not conjoined) musical friend.


Processing your request, please wait....