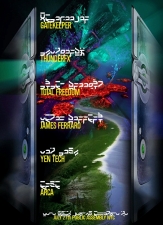 Public Assembly
Gatekeeper "EXO" record release


featuring

Gatekeeper + Thunder Horse FX


plus

Total Control

/

James Ferraro

/

Yen Tech

...

more

►

Friday, Jul 27, 2012 10:00 PM EDT
Public Assembly, Brooklyn, NY
21 years and over
Purchase Tickets
We're sorry, there are no tickets currently available through TicketWeb.
Additional Information
Gatekeeper + Thunderhorse:
Pineal activation. IMAX phantasy. Drippy acid ecosystems. HD….everything. All contribute to the sentient environment that is Exo, Gatekeeper's debut LP dropping on H.I.T. this summer. Demented and celebratory, sinister but pure-hearted, Exo is a cerebral spectacle, a gapless playback rush of digitally-enhanced stimulation. Their visual comrades-in-arms, Thunderhorse Video, have became noted for their unique role in Gatekeeper's live appearances, designing special installation-type locations while utilizing a custom-made special effects light shows. (HIT)

Total Freedom:
Los Angeles' Total Freedom is unsung hero, one of those figures who seems to have his hand in just about every cool event in the City of Angels. He's a key member of the Fade to Mind crew, and although his track-producing partners Kingdom and Nguzunguzu might grab more attention, Total Freedom just might be the best DJ of them all. (XLR8R)

James Ferraro: http://youtu.be/wk4usdzhob8
"I became completely obsessed with Bach's Concerto for Oboe and Violin in C minor. As it blasted from the speakers of the PT Cruiser, spilling out into the open air, I indulged in an ecstatic delirium that was colored by a sweet subtle victorious madness, ideas flooded my mind, blood coursed through my veins, Smart Water™ oxidized my brain . . . thoughts of Napoleon at the Olive Garden, Julius Cesar reading poetry to me . . . " (James Ferraro)

Yen Tech:
BassClown extraordinaire and dedicated psychotek demigod YENTECH is ushering in the final techno_jihad. Disjointed R&B ground pounders, head-spinning uLtRa-DoNks and demonically vocoded #_panty_droppers_. A mech-powered joyride through the neon-glowing corridors of Neo-Bahgdad, dropping you off on the shores of a #Southbeach MobileSUIT sleaze-rave. (Priz Tats)

Arca:
Venezuelan producer Arca delivers tracks of twisted, gritty electronics that traverse the territory between futuristic bass, abstract house, and instrumental hip-hop with an expert ease. His hyper-distorted vocal mumble would make Tricky proud, reigning ambient wooshes and gloopy mouth clicks into a fully formed, ecstatic songs. (XLR8R, Fader)


Processing your request, please wait....

Gatekeeper "EXO" record release
featuring
Gatekeeper + Thunder Horse FX
plus
Total Control
/
James Ferraro
/
Yen Tech
/
Arca