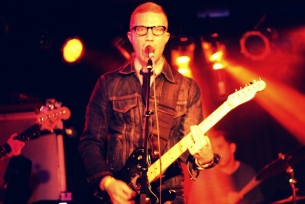 Union Hall
Ace Reporter

/

Lightouts

/

Overlord

Thursday, Aug 09, 2012 7:30 PM EDT
Union Hall, Brooklyn, NY
21 years and over
Purchase Tickets
Advance ticket sales have ended. Tickets will be available at the door.
Additional Information
A rooftop overlooking Manhattan's Fifth Avenue, and a fleabag motel on the banks of the Susquehanna River. A bus traveling through sleeping Chicago suburbs, and a book-filled bedroom. A sculpture garden in Washington, DC, and a tragicomic garden party. If the songs on Ace Reporter's debut LP, Yearling, feel as though they wander through the dioramas of specific memories, it's because the songs themselves constitute memories. Memories, that is, of a year — 2010 — that Ace Reporter's Chris Snyder spent writing and recording one new song every day. The impetus for such an ambitious undertaking? "At the end of 2009, my longtime band The States broke up in a bit of an emotional plane crash, and all of a sudden I was a musician without a mission. I wanted to do something extremely solitary, almost monkish, and overnight the 'threesixfive project' was born." One year and three hundred and sixty-five songs later (and much to his surprise), Snyder found himself energized. "I fully expected to be drained by the end of the project, but instead I felt more creative than ever. I wanted to make a record, and more importantly, I wanted to play shows again. It felt great."
"Gowanus Lightouts resurrect the melancholy chug and darkly sexy swagger of bands like The Cure, Girls Against Boys, JAMC and Afghan Whigs and impolitely jam it into the drum machine crunch of contemporary locals like Sleigh Bells, Year Of The Tiger and the Death Set." -Christopher Weingarten, Village Voice
"Lightouts put the guitar back in indie rock" -The Dadada
Brooklyn, NY indie-pop band overlord is proud to present a new album, IN SOVIET RUSSIA, MY HEART BREAKS YOU (out 4/1).
The misleadingly-named group draws inspiration from '60s British Invasion, '70s Bubblegum, '80s New Wave, and '90s self-involvement.
In the past, songwriter George Pasles recorded overlord albums on his own, recruiting members of A Sunny Day in Glasgow, Longwave, and Ui for live shows.
Now, for the first time, the studio and live bands are the same: vocalist/guitarist Pasles, bassist Sarah Brockett (Palomar), synthesizer player Tris McCall (My Teenage Stride), and drummer Matt Houser (The Human Hearts).
While writing this album, overlord has played with the Dodos, Frightened Rabbit, the Wrens, Shilpa Ray, and, inexplicably, Robert Plant's son.
We are your overlord, indeed.
Plus Special Guests

Processing your request, please wait....