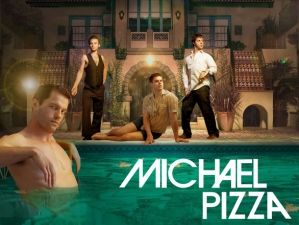 iO Chicago
Michael Pizza


and

The Scene

Thursday, Jul 12, 2012 10:30 PM CDT (10:00 PM Doors)
iO Theater , Chicago, IL

Purchase Tickets
Contact the iO Box Office at 773-880-0199 for more details.
Additional Information
Michael Pizza
Four idiot friends who love to show their chest hair, pee with the door open and talk while they should be paying attention to their coach. Oh, and they also believe in the art of improv and love to heighten each other's ideas into a cohesive piece of work. Fresh off their championship win at iO's 2009 $800 Cage Match, Michael Pizza focuses on creating a unique and interesting show that incorporates all of iO's teachings. Fast or slow, Michael Pizza is always supportive, committed and ready to follow the fun.
Starring: Eric Christensen, Ben Kass, Josh Logan, Brett Elam
The Scene
In "The Scene", five veteran improvisers come together as one common mind – the Director. The Director's mission is to explore the possibilities inherent in an initial improvised scene and to rework that scene until it reaches its natural conclusion. As such, "The Scene" sets out to marry the often juxtaposed concepts of creative process and finished product (and entertain the audience equally with both.)
Starring: Tim Baltz, Rush Howell, TJ Jagodowski, Sarah Fineout, Farrell Walsh
Thursdays @ 10:30 PM in the Cabaret Theater - tickets are $5


Processing your request, please wait....