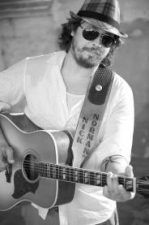 Joes Bar
WEED STREET ROUNDUP

with

NICK NORMAN


and

Steve Sebby

Monday, Jul 30, 2012 7:45 PM CDT
Joe's on Weed Street, Chicago, IL

Purchase Tickets
Tickets are no longer available online.
Additional Information
As the choir begins belting out soulful tunes over the soothing sounds of an organ, a small Southern-Baptist boy's dream of ditching Sunday school to practice his guitar in the field behind his momma's house slowly becomes a reality.

The Southern-Baptist boy brought the spirit of those open fields to the island beaches, with the soul engrained in his spirit still marked in his smile.

Nick Norman gives us music that shows us that blues can still find you by the ocean. The hint of country twang reminds us that even in paradise you can long for home. His raspy voice lies over his smooth guitar the way his sins of booze and drugs and his past of heartbreak lay over the grace he strives for

"All my songs are written straight from the heart, the only place I know where to take them from," Nick says about writing the album "Hey Cheater". "Sometimes, it gets hard to sing the songs I write simply because it is real. The emotions I felt while writing, hell, while going through what I was dealing with, is hard to let people hear, but that's what makes a great song," he laughs, "or so I am told".

During his latest tour across the southeast, he had the opportunity to meet up with a childhood friend, country music star, Lee Brice.

"Sure we played shows and had a great time with our fans. But mostly man, it is just so good to be around old friends when you are away from home. We actually took my nieces to summer camp at the very same camp where Lee and I met more than 15 yrs ago. Crazy how time passes."


When asked why a country boy like him would choose Key West over Columbia, SC, he stated with an easy smile "if you visit Key West once, you would want to call it home too."

While Key West is where Nick met his band, or his family, as he calls them, Nashville has been so inspirational to him as well. "I love writing with my Nashville brothers. Writing is such a incredible thing; i have so much respect for them and what they do. Sitting around, strumming and fumbling through words with some of the best lyricists is an amazing experience."


Processing your request, please wait....