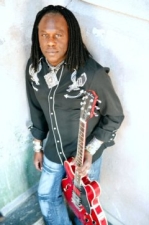 Iridium Jazz Club
Joe Louis Walker and Eric Gales
Sunday, Jun 17, 2012 8:00 PM EDT
Iridium, New York, NY

Purchase Tickets
Pre-sale tickets are no longer available for this event. Tickets will be available at the door, or contact our box office at 212-582-2121 for further information.
Additional Information
San Francisco's Fillmore District of the 1960s is known worldwide as the birthplace of psychedelic rock. But it was also a hotbed of modern electric blues, and it was the place where one of the genre's top musical trailblazers, Joe Louis Walker, was born, raised and schooled. The award-winning guitar slinger, deeply soulful vocalist and gifted songwriter has been releasing groundbreaking music since 1986, but his career goes all the way back to the mid-1960s. As a 16-year-old, he was the house guitarist at San Francisco's famed musical playground, The Matrix, where he played with or opened shows for everyone from Lightnin' Hopkins (who once threw him off the stage) to Jimi Hendrix to Thelonious Monk. These ear-opening surroundings explain the ease with which Walker blends blues, rock, gospel, jazz and country, making it seem as if the walls between the styles never existed in the first place. The New York Times raves, "Walker is a singer with a Cadillac of a voice. He delivers no-nonsense, gutsy blues. His guitar solos are fast, wiry and incisive, moaning with bluesy despair." According to Living Blues, he is "one of today's modern musical masters." Rolling Stone simply calls him "ferocious."
ERIC GALES
Blues guitar phenom Eric Gales was born and raised in Memphis, learning to play at age four from older brothers Eugene and Manuel in imitation of their upside-down, left-handed style (a tradition actually passed down from their grandfather, Dempsey Garrett, Sr., who was known to jam with the likes of Muddy Waters and Howlin' Wolf). Winning his first blues contest at 11, four years later Eric signed to Elektra to issue his 1991 debut LP, recorded with Eugene on bass; Picture of a Thousand Faces followed in 1993. Manuel (who previously performed under the alias Little Jimmy King) reunited with his siblings for 1995′s Left Hand Band, credited to the Gales Brothers.


Processing your request, please wait....