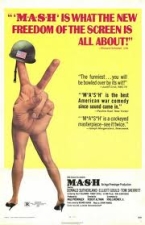 Michigan Theater
Bell's Summer Classic Film Series


featuring

MASH

Sunday, Jul 01, 2012 1:30 PM EDT
Michigan Theater, Ann Arbor, MI

Purchase Tickets
We're sorry, there are no tickets currently available through TicketWeb.
Additional Information
US VETERANS admitted FREE!
Although he was not the first choice to direct it, the hit black comedy MASH established Robert Altman as one of the leading figures of Hollywood's 1970s generation of innovative and irreverent young filmmakers. Scripted by Hollywood veteran Ring Lardner, Jr., this war comedy details the exploits of military doctors and nurses at a Mobile Army Surgical Hospital in the Korean War. Between exceptionally gory hospital shifts and countless rounds of martinis, wisecracking surgeons Hawkeye Pierce (Donald Sutherland) and Trapper John McIntyre (Elliott Gould) make it their business to undercut the smug, moralistic pretensions of Bible-thumper Maj. Frank Burns (Robert Duvall) and Army true-believer Maj. "Hot Lips" Houlihan (Sally Kellerman). Abetted by such other hedonists as Duke Forrest (Tom Skerritt) and Painless Pole (John Schuck), as well as such (relative) innocents as Radar O'Reilly (Gary Burghoff), Hawkeye and Trapper John drive Burns and Houlihan crazy while engaging in such additional blasphemies as taking a medical trip to Japan to play golf, staging a mock Last Supper to cure Painless's momentary erectile dysfunction, and using any means necessary to win an inter-MASH football game.
MASH creates a casual, chaotic atmosphere emphasizing the constant noise and activity of a surgical unit near battle lines; it marked the beginning of Altman's sustained formal experiments with widescreen photography, zoom lenses, and overlapping sound and dialogue, further enhancing the atmosphere with the improvisational ensemble acting for which Altman's films quickly became known. With its formal and attitudinal impudence, and its great popularity, MASH was one more confirmation in 1970 that a Hollywood "New Wave" had arrived. ~ Lucia Bozzola, Rovi
1970. 115 minutes. Rated R.


Processing your request, please wait....