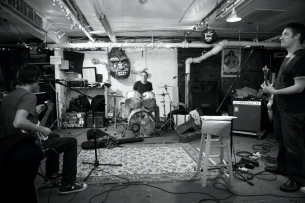 mPshows.com Presents
The Figgs


/

The Lustkillers

/

The Van Buren Boys

/

The Cry

Friday, Jun 15, 2012 9:00 PM CDT (9:00 PM Doors)
- Saturday, Jun 16, 2012 1:00 AM CDT
Ultra Lounge, Chicago, IL
21 years and over
Purchase Tickets
We're sorry, there are no tickets currently available through TicketWeb.
Additional Information
The Figgs formed in 1987 in Saratoga Springs, NY. Mike Gent (guitar, vocals), Pete Donnelly (bass), Pete Hayes (drums), and Guy Lyons (lead guitar) were power pop and brash punk freaks, recklessly mixing elements of each but rarely losing sight of a solid hook. The combo issued 7" and cassette releases on the area indie Absolute-a-Go-Go before making their official debut with the 1994 Imago LP Low-Fi at Society High. The Hi-Fi Dropouts EP followed that same year; both received solid notices from critics and college radio. Imago's sudden loss of financing and distribution left the Figgs and material for their follow-up high and dry, but the band landed on its feet at Capitol, which issued Banda Macho in 1996. However, despite some touring and promotion, Capital wasn't really sure what to do with the ambitious Banda or the guys who made it, and the Figgs were kicked to the curb. Their next opportunity came as the backing band for Graham Parker, who tapped them for a tour after hearing their version of "Passion Is No Ordinary Word." The jaunt spawned a live set called The Last Rock N Roll Tour (Razor and Tie, 1997), but it was mostly a great excuse for the Figgs to play with one of their heroes. The Couldn't Get High LP appeared from Absolute-a-Go-Go in 1998, followed by an EP for Hearbox a year later. 2000 saw issue of both the vinyl-only Rejects (Philthyrex) and Sucking in Stereo (Hearbox), which emphasized the early new wave side of the Figgs' engaging, bratty pop. Stereo was hailed by some as a return to stripped-down, happily rocking form for the group, which by this point had endured its unfair share of label woe and teasing success. The 2001 EP Badger built on Stereo's success, as did the Hearbox full-length Slow Charm a year later. Touring for that album included a stint with Tommy Stinson; the ex-Replacement returned the favor in 2004, guesting on the Figgs' self-released double album Palais. ~ Johnny Loftus, All Music Guide
lustkillers (lust-killers) n. , pl. 1. a band of rogue rock n roll mercenaries preaching the BlankGeneration/PostPunk gospel. The LustKillers songs are edgy, moody, witty and sometimes even charmingly sassy ....Fast 'n Deadly like The Damned, ...Cool 'n Creepy like The Cramps, ...Dark 'n Lovely not unlike.... The Lords?? The LustKillers. Not afraid to get serious. Not afraid of fun. And not afraid of serious fun.
The Van Buren Boys started playing together in early spring of 2009. They play a blend of 70's punk and powerpop mixed with rock n roll roots. Think of all your favorite bands times ten! Come expecting to tap your feet and shake those hips!
The CRY! is four young guys from PDX who have reinvented the 2 min pop song for the next generation. Merging '77 Punk with 50's Doowop vocals and jangle of 60's Pop-rock, The CRY! has created an energetic "New-Old School" sound that is earning them fans all across the country!


Processing your request, please wait....