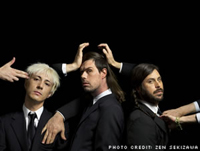 The Grog Shop
Liars


/

Unknown Mortal Orchestra

/

Kiss Missle

Friday, Jul 27, 2012 9:00 PM EDT (8:00 PM Doors)
Grog Shop, Cleveland Heights, OH

Purchase Tickets
We're sorry, there are no tickets currently available through TicketWeb.
Additional Information
"Teach me how to be a person," Liars frontman Angus Andrew intones over a rattling synth groove on "Flood To Flood," a song off of WIXIW, the upcoming new album from Liars, to be released worldwide on (date TK) by Mute. It's a crucial lyric, providing insight into the fractured conundrum that evocatively haunts every note of WIXIW - one of the most provocative, unsettling, and significant records you'll probably encounter in 2012.
Forming in the Los Angeles area, where co-founders Andrew and Hemphill met at the famed California Institute of the Arts, Liars soon after decamped to Brooklyn, gaining notice after being lumped into the early aughts' post-punk revival with their first albumThey Threw Us in a Trench and Stuck a Monument On Top (2001). Liars then willfully confounded that pigeonholing with classically difficult sophomore effort They Were Wrong, So We Drowned, a confrontational, noisy concept cycle dealing with German witch trials co-produced by the band with David Sitek (TV on the Radio, Yeah Yeah Yeahs). Liars then decamped to Berlin to create 2006's Drum's Not Dead: another conceptual album about the poisonous power dynamic between two fictional protagonists Drum and Mount Heart Attack, it proved as acclaimed for its shapeshifting surrealism and brutal rhythms as They Were Wrong... was initially reviled, reaching #6 on Pitchfork's Top 50 Albums of that year. Perversely, the band's eponymous 2007 follow-up, mixed by Depeche Mode collaborator Gareth Jones, replaced the now-trademark heady themes with a gripping emphasis on stripped-down, primal rock and roll; Rolling Stone listed "Freak Out" from the album one of the 100 Best Songs of that year. Such admiration didn't prepare for Liars' next release, 2009's Sisterworld - and the band's masterpiece up to then, receiving an 8.1 "Best New Music" rating from Pitchfork.
Liars' embrace of new technology, however, makes sense considering they've always been more of an interdisciplinary multi-media assault than just a mere rock band. Liars' music, for example, can't be separated from the visuals that typically accompany each album. Drum's Not Dead came packaged with a DVD featuring three different short films for each track; Sisterworld was announced online with a series of evocative clips created by each member of the band; following tradition, WIXIW has been preceded by a series of odd audio and visual fragments presented via Liars' Tumblr,http://amateurgore.tumblr.com/. It's a polarizing but effective process, all about eluding expectations and sabotaging casual interpretation - a consistent approach that continues to produce works like WIXIW that defy easy pathology. "We never can just settle on formula - that would make me insane," Andrew says. "We have to take risks and just fuck things up anew every time. It's ingrained."


Processing your request, please wait....