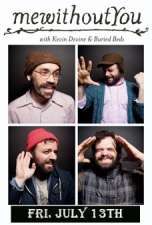 The Grog Shop
Mewithoutyou


/

Kevin Devine

/

Buried Beds

Friday, Jul 13, 2012 8:30 PM EDT (7:30 PM Doors)
Grog Shop, Cleveland Heights, OH

Purchase Tickets
We're sorry, there are no tickets currently available through TicketWeb.
Additional Information
"I do not exist," mewithoutYou frontman Aaron Weiss mutters to open the band's third full-length, Brother, Sister, setting the tone for an album that explores philosophical, spiritual and interpersonal relationships with equal aplomb. However, while Weiss has become known for his stream-of-consciousness lyrics communicated via his half-sung/half-shouted vocals, Brother, Sister is a huge progression for Weiss personally, as well as the rest of the Philadelphia-based band—guitarist Michael Weiss, guitarist Christopher Kleinberg, bassist Greg Jehanian and drummer Rickie Mazzotta. Oh, and it also has the potential to finally break the underground's best-kept secret wide open.
In a musical landscape dominated by genre divisions and marketing campaigns, Brother, Sister is simply an album made by five people who create art without any limitations—and that's what makes it so important. While the album retains the band's instantly recognizable post-hardcore sound, Weiss' vocals and the implementation of atypical instrumentation are the most instantly recognizable shifts from 2004's Catch For Us The Foxes. "A lot of our old stuff is all shouting and that's still there," explains Weiss. "But I've never really listened to heavy music; with this record, my goal was to make music that I wanted to listen to. Not everyone agreed at first, but I wanted to incorporate different types of melodies and instrument—and those are probably some of my favorite moments on the record."
While Foxes and the band's Tooth & Nail debut [A à B Life] were rife with delay-driven guitars, explosive drumming and driving songs like "January 1979," the beauty of Brother, Sister alternately lies in its subtleties. Opening with a lone Wurlitzer and minimal percussion, "Masses of Men" crams more emotion into three-minutes than screaming ever could; "The Dryness and the Rain" incorporates an middle-eastern orchestra for its chorus; and the quasi-ballad "A Sweater Poorly Knit" is probably the most epic song the band have ever crafted, featuring acoustic guitar, accordion, harp and horns into a musical journey that shifts from beautiful to foreboding and back again seamlessly.
Simply put, Brother, Sister is the sound of a band discovering its identity—but that couldn't have happened without the experiences the band shared traversing the freeways in their vegetable oil-powered Greyhound Bus for the past two years alongside peers like Thursday, The Blood Brothers, and Minus The Bear. "The wild ideas we tried on Catch For Us The Foxes have become very normal on this record," explains Michael Weiss, fresh off the band's acceptance of an MTV Woodie Award for best new artist. "But after we toured on those songs for two years, we thought we could just take what we liked from the last record and expand on that stuff and throw away the rest."




Processing your request, please wait....