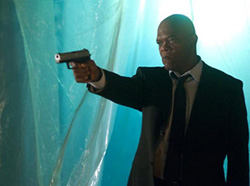 Facets Cinematheque
The Samaritan
Thursday, May 24, 2012 9:00 PM CDT
Facets Cinematheque, Chicago, IL

Purchase Tickets
We're sorry, there are no tickets currently available through TicketWeb.
Additional Information
"[Director David Weaver] keeps a sturdy grip on character, drawing a quietly commanding performance from Jackson and on-the-money turns from the rest of his cast of players"
-Hollywood Reporter
After 25 years in prison, Foley (Samuel L. Jackson) is finished with the grifter's life. Prison and a lifetime in the game have stripped him of friends, family and a reason to get up in the morning, but when he meets an elusive young woman named Iris (Ruth Negga), the possibility of a new start looks real. Yet his past is proving to be a stubborn companion: Ethan (Luke Kirby), the son of his former partner, wants to learn the game—and who better to learn from than the closest thing he has to a father? And he has the perfect mark—Ethan's boss Xavier (Tom Wilkinson, in a brutal performance) a gangster in a suit who is admired in the straight world for his business savvy, and feared in the underworld for his ruthlessness, is coming to town, with an easy $8 million to be had if you know how to play smart. But despite Foley's desire to stay straight and do the right thing, Ethan raises the stakes by playing some cards that he never knew were in the deck. He finds himself caught up in a nightmare situation and for the first time, with something personal to lose. The mark proves more formidable than Foley anticipated and every unexpected turn could blow the whole thing up, leaving Foley vulnerable, exposed and hopelessly watching everything that matters to him slip through his fingers. In a good con nothing is as it seems, and Foley finds out, too late, that the player has been played. Now he is trapped, the con is on, and only bad things will follow.

The story in The Samaritan is an old classic con with an inside man, the outside man, the catch and the mark. However, this neo-noir thriller has a dangerous and high risk setup which requires nerves of steel, precision timing and a bit of finesse to make it convincing, and also stars Samuel L. Jackson in a compelling performance as a philosophical ex-con being forcefully dragged back into his old ways.

Directed by David Weaver, Canada, 2011, 90 mins.

Official site


Processing your request, please wait....