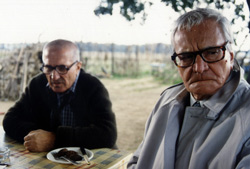 Facets Cinematheque
The Afternoon of a Torturer/Tertium Non Datur
Sunday, May 13, 2012 3:15 PM CDT
Facets Cinematheque, Chicago, IL

Purchase Tickets
We're sorry, there are no tickets currently available through TicketWeb.
Additional Information
The Afternoon of a Torturer
Frant Tandara, former torturer in Romanian communist prisons, is ready to confess his crimes to a journalist and a former victim. The two meet him at the train station in Giurgiu, where Tandara, a man with a shy demeanor, welcomes them by offering them flowers. But the confession presents problems right from the start: the tape recorder does not work, Tandara talks too fast or too slow. Frant tries to begin the tale by talking about the least significant parts of his life: his father in the military, his education, his wandering at the end of the war. The journalist tries to get him with direct questions about his career as a butcher but only gets evasive answers. Tandara's wife intervenes to ask them to stop torturing her husband, and the afternoon does not go as expected. This is a film about people's failure to let memory do its job.

Directed by Lucian Pintilie, Romania, 2001, 35mm, 76 mins. In Romanian with English subtitles. Followed by a video interview with Pintilie.
Tertium Non Datur
It is the end of the Romanian war against the Soviet Union (but not the end of the WWII), as Germany and Romania are allies, but in a few weeks they will be enemies. Two German officers stop for a lunch with a group of Romanian officers and as the story develops, a pair of rare postage stamps are acquired in very different occasions, which underlines the differences between the group of officers. This deceptively simply short film has many complex ramifications about history, honor, about how material value translates in life and survival. Director Pintilie works beautifully with his actors, especially Victor Rebengiuc (a preferred actor of Pintilie) and his use of visual space in a small room is both inspired and effective.

Directed by Lucian Pintilie, Romania/France, 2005, 35mm, 39 mins. In Romanian with English subtitles.


Processing your request, please wait....