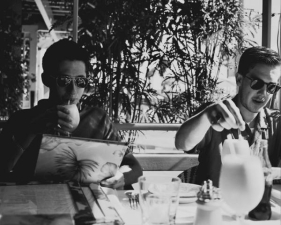 Union Hall
The Dough Rollers

/

The Driftwood Singers

/

Glass Anchors

Thursday, Jun 14, 2012 7:30 PM EDT
Union Hall, Brooklyn, NY
21 years and over
Purchase Tickets
Advance ticket sales have ended. Tickets will be available at the door.
Additional Information
The Dough Rollers started a few years ago when Jack Byrne and Malcolm Ford bonded over a mutual appreciation for blues music. Since then the two have made it their business to play as much as possible in all the different genres they like, whether that be blues, country or even some rock and roll. Their line-up features a rotating cast depending on the kind of music being performed but the constants are Byrne and Ford. Recently the line-up has expanded to include drummer Loren Humphrey of the Willowz and bassist Daniel Presant. The band has released two albums, the first a self-titled album that featured fiddler and vocalist Julia Tepper and piano and washboard player Andrew Barrett, stretched from blues to straight ahead honky-tonk country. Their new release, Someday Baby, has a stronger focus on blues and the personnel is mainly just Byrne and Ford. Recently the band has toured with Bob Dylan and Queens of the Stone
"LA's young The Driftwood Singers' folk tinged harmonies are channeling another time and place." - Huffington Post
Constantly on the road since beginning the band nearly two years ago at the age of 19, playing all over the country and Canada, The Driftwood Singers are quite a surprising contrast to what one might expect from two kids born and raised in the heart of Los Angeles. They prove that one can love the Carter Family and traditional music and still be firmly in the present with songs as vibrant and alive as any we've heard and an attitude that embraces the anti-elitist and DIY ethos of the punks we love

Their debut, 5-song EP, Look! beautifully exemplifies their determination. After experimenting with some big studios and becoming frustrated with the intervals of multi-tracking and the stale output of Protools, they decided one night to pare everything down to its stark essence and begin recording it on a Sony Walkman which they did by laying it on their living room table and pressing record. What's captured is the immediacy of their performances and what they call "the transparency of sound".

How can you go wrong with songs of death and hope, murder and love, lechery and splendor, transcendence and cruelty and all points in between! We're looking forward to being a part The Driftwood Singers story as it winds it's way through the hills, hollers, canyons and caves out of the shadows of the blue ridge mountains of Pocahontas, West Virginia to wide open starlit skies of Joshua Tree, California.
Glass Anchors has found the holy grail in their crafting of the perfect happy-sad song. Think Elliott Smith or Lucinda Williams or Ryan Adams or Wilco or any of the other musicians who make songs that make your heart swell and soar. Songwriter Annie Sicherman is backed by a seasoned crew of NYC musicians who bring her bittersweet alt-country/indie folk songs to twinkling, heartbreaking life

Processing your request, please wait....