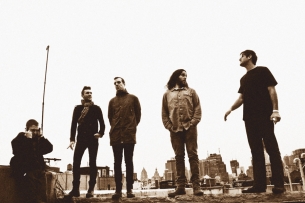 Bottom Lounge
Ceremony
Monday, Jun 18, 2012 6:30 PM CDT (6:00 PM Doors)
Bottom Lounge, Chicago, IL

Purchase Tickets
We're sorry, there are no tickets currently available through TicketWeb.
Additional Information
I have a little window I peek out of in my house in Rohnert Park where I write things down that have come to me throughout the day. Most of the stuff has to do with people, how we treat each other and our ever increasing ability to hurt one another. As well as unconditional love. It's always amazed me, the contrast in which we move and work. While writing "Zoo," I tried to write about humans from a more welcoming perspective, in that I didn't want to harp on the fact that we're killing ourselves and each other all the time, or fall into the habit of writing things that seemed too pessimistic - something punk and hardcore bands have exhausted many times over. We all have a cluster of emotions in us that are always there, and articulating those many sides was my main dilemma. I think the music reflects that. There are songs on the record that sound fast, slow, eerie, abrupt, each one different, but at the same time similar. I suppose this is our first fully comprehensive sounding record, in that each song binds to each other better than we've done in the past. The idea for "Zoo" came to me while watching TV. I felt like I was in a zoo. I was paying to be a voyeur. I do this almost every day. I pay money to use the internet, to watch my favorite movie stars, to watch my favorite bands, and sometimes to watch people do the most primal thing we do: have sex. We've gone so far to entertain ourselves that sometimes I think we forget how close we are to the world, and how close we are to animals. It's very strange to be a human being. "Zoo" isn't a concept record or any attempt at changing people's minds, or exalting the world's problems, it's just a pursuit in trying to understand what it means to be a human living in a world that sometimes seems too full of everything, because it is - it's full of us, an extremely complicated people, and we're doing all we can to live in harmony, free from whatever it is that closes us in, bars us, and cages the joy of being here. -Ross Farrar

Processing your request, please wait....