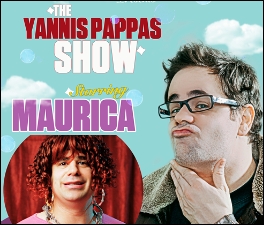 Carolines on Broadway
The Yannis Pappas show featuring Maurica
Friday, Jul 13, 2012 8:00 PM EDT
Carolines on Broadway, New York, NY

Purchase Tickets
Please call 212-757-4100 to make a reservation
Additional Information
YANNIS PAPPAS

Starring Yannis Pappas
Directed by Jesse Scaturro

YANNIS PAPPAS is becoming widely known as one of the most exciting comedians
working today. He is an emerging international headliner and internet sensation. This
past year he was selected as a "New Face" at the prestigious Just For Laughs Comedy
Festival in Montreal and has toured every country in Scandinavia to rave reviews. He
debuted his one man show at the Zulu Comedy Festival in Denmark in 2010 and
received a 5 star review. He plays "Power" on the upcoming television series
"Girlhattan" on Karmaloop and was a featured panelist on the hit show "Best Week
Ever" on VH1. Yannis' internet character "Sneaker Keeper" is an underground legend
with sneaker aficionados and his character "Mr. Panos" has been featured on television
in Greece, Cyprus and recently on a Canadian Just For Laughs television special. Mr.
Panos has become a sensation on the internet with thousands of devoted fans as has
his latest character "Maurica Rodriguez".

The Yannis Pappas show Featuring Maurica live is in it's first run at Carolines on
Broadway after taking NYC by storm. Every show to date has completely sold
out with over 3000 tickets sold thus far. Maurica has become an internet
sensation and to date, Ditch's Love Match videos have millions of views.
Maurica has followed up her internet success with a new single titled, you
guessed it,"Das it". The single is available on iTunes and is currently working it's
way up the latino charts and the "Das It" music video was added to the Itunes
hot list.

For photos: http://www.maurica.net/p/my-shows.html
To see the videos http://www.youtube.com/ditchfilms
Contact: ditchfilms@gmail.com
Ultimate VIP Carolines Package
One reserved priority seating ticket
On-site VIP host
Carolines specialty glass
Early Hassle-free entrance to showroom
VIP Package
One reserved priority seating ticket
Early Hassle-free entrance to showroom
Upon arrival at Carolines, Ultimate VIP and VIP ticket purchasers should proceed directly to the host podium at the bottom of the stairs. Due to the location of these priority seats, we can only hold them until show time. Late arrivals will be seated in the best available seats.


Processing your request, please wait....