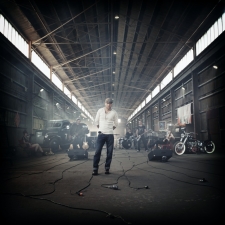 Sell Out Presents
Redlight King
Sunday, May 13, 2012 9:00 PM CDT (8:00 PM Doors)
Exit/In, Nashville, TN
18 years and over
Purchase Tickets
We're sorry, there are no tickets currently available through TicketWeb.
Additional Information
There's stubborn. And then there's Kaz stubborn. The singer-songwriter of Redlight King refused to take no for an answer when music business suits denied his request to sample a Neil Young classic, pressing relentlessly until he got a "yes." More importantly, Kaz held on to vanquish the inner demons that nearly wrecked him several years ago. Now, with "Something for the Pain," Redlight King's redemptive Hollywood Records debut album, Kaz relives both his darkest days and the turn-around, when he clawed his way back to the light.
A latticework of rock and hip hop, the album conjures old school sounds, thanks to Kaz and producers Wally Gagel and Xandy Barry, as well as the good vibes at Hollywood's TGG Studios (now called Wax Studios, whose alums include Jimi Hendrix, the Doors and, yes, Neil Young). "I'm all about mixing in the old sounds," Kaz says, "and giving it that warm, analog feel. There is sampling, hip hop grooves and beats, but I also wanted good old fashioned meat and potatoes: bass, guitar, drums."
The sound may be warm, but his songs revisit the cold climate of Kaz's native Hamilton, Ont., and the even chillier emotional landscape of his lost years. In the astonishing hip-hop flavored debut single, "Old Man," Kaz offers a reluctant salute to his father, a larger-than-life figure who taught school by day and raced stock cars at night ("The life he demanded/Kept us all in a struggle/When he ruled with his fist/It kept us all out of trouble"). "No father issues here," says Kaz with a laugh.
Kaz grew up in Hamilton, Ont., once a booming steel center on the shores of Lake Ontario, and now struggling in the global economic meltdown. He grew up in middle class home where his parents "struggled to pay the bills." Like his dad, Kaz loved cars and drag racing (Redlight King is named for the light "tree" that signals the start of a race). As he grew, music also began to take hold. He loved Queen, Springsteen, Dylan and Lennon no less than A Tribe Called Quest, Rakim, Treach and Nas. He started writing early on, recording his first track at age 16. But in his teens, music took a back seat to judo. He was good enough for a shot at Canada's Olympic training center to prepare for the 2000 Games. But he didn't make the team -- a blow that would take a toll later.
Meanwhile, Kaz returned to music, landing a deal and releasing an album in Canada. That led to a Juno Award nomination for Best New Artist, but the affirmation wasn't enough to halt a steep slide. "You know why it's happening," he recalls of his struggle with substance abuse. "You don't know where the end is, you've lost all rationality. You're borderline insane. But in the end, you make a decision to start again, and the only way was to forgive myself for my mistakes."
It worked. Kaz came back strong, headed to California in a rebuilt '49 Mercury pick-up and converted his two-year nightmare into the song cycle that became "Something for the Pain." Says Kaz, "Writing songs when you're in a dark place is dangerous. The songs I wrote for this album I won't write again. I won't have to."


Processing your request, please wait....