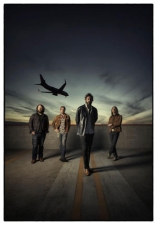 Union Hall
Everest


plus

Diehard

and

Benjamin Cartel

Tuesday, Apr 24, 2012 7:30 PM EDT
Union Hall, Brooklyn, NY
21 years and over
Purchase Tickets
Advance ticket sales have ended. Tickets will be available at the door.
Additional Information
Often descriptions of bands fall into the equation of "this well known group plus this other established act plus a few adjectives." But some bands defy this shorthand, offering something so pure & true that its roots aren't apparent. Everest is this sort, taking us down to foundational rock truths with an easy glide and expansive vision. While one can draw some clues from the folks they've toured
with – Neil Young, Wilco, My Morning Jacket – ultimately Everest is simply a great rock 'n' roll band in the classic, open-minded mold, something boldly apparent on their sophomore release, On Approach (arriving May 11th) on Warner Bros. Records / Vapor Records).
Diehard is four people shrinking their influences into immediate indie pop, like a cannonball dressed up in an autumn sweater.
Big, swinging drums with a slap that might remind you of Damn The Torpedoes, groovy bass, guitar (probably Telecaster) mixed with that heartland twang, super tremelo on the downbeats of "Amelia", roller-rink Hammond on "No One", twinkly Buckingham-"Gypsy" lead on "Angela", something that sounds like the "You Got Lucky" synth on "Leave Me Be", but which might be a treated guitar. Benjamin almost never strums his six-string in big sheets; he strikes it like a rhythm instrument, and keeps it out of the way of the vocals.

Processing your request, please wait....