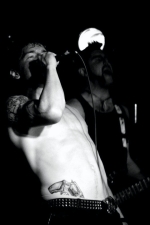 Union Hall
Cult War

/

World War IX

/

Poor Lily

/

Uzuhi

Saturday, Jun 23, 2012 8:00 PM EDT (7:30 PM Doors)
Union Hall, Brooklyn, NY
21 years and over
Purchase Tickets
Advance ticket sales have ended. Tickets will be available at the door.
Additional Information
In association with Candy Apple Red Productions, we proudly present an evening of punk rock featuring Brooklyn's own Cult War! Come celebrate the release of their first LP as they drink the bar dry, and come back for more! Heck, you might be lucky enough to get a free copy! Bringing their special blend of hardcore and classic rock, these are tunes crafted for skaters, surfers, and all-around punk rockers. Their influences range from Black Flag to Sabbath, Bad Brians to Motorhead, and Misfits to Maiden – need we say more? How could you not want to come rock your faces off with these guys?! So get off your seat, raise your bottles, and join us in cheers for Scott & for Bonham, for Dimebag and Cliff, and all the gods of the almighty riff… for to those about to drink, we Salud you!
Trash Punk. Get Drunk. With high energy tunes oozing with anthemic calls for questionable behavior, Brooklyn's World War IX has been punk-rocking their socks off and falling on their faces since 2002, and there's no end in sight! Against stern warnings from the medical community WWIX has concluded that it's better to wreak havoc on their eardrums and make mincemeat out of their livers than it is to stay in and watch re-runs! So what are you waiting for? Get up out of your sweat soaked sleazy chair, and go ahead...raid your friends' medicine chest, empty your neighbor's liquor cabinets and trust us, get yourself a good shrink and a better lawyer. You're gonna need them!
Poor Lily is a punk band based in New York, formed in 2010. Guitarist and occasional singer, Max Capshaw, comes from a long line of classic New York bands including. Sick Of It All, Burn, Murphy's Law, H20, Lament, Ashcan, and many more. Though he played drums for most of his career, he is more than able at the art of guitarring. The drum throne is occupied by another veteran, literally and figuratively, Dom Baiocco. He is the original drummer for the NYHC band Beyond. You may have seen him more recently at one of the Beyond reunion shows. Lead singer and bassist Adam Wisnieski
comes from possibly the noisiest band in the universe (definitely at least the Bronx), Lightning Crabs. Their album is available streaming and free-for-download on their site. You can get the CD from them at our shows.
"We are UZUHI! We play Music! We want to make you Happy!" UZUHI is the NYC
based Japanese Pop Rock and Smilers! As their strong belief and motto, "Music has No Borders", they play music for this Generation.

Processing your request, please wait....