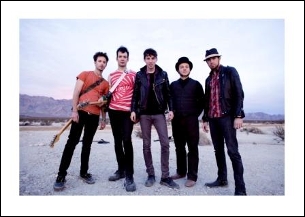 Outernational!


Los Angeles

Release Party for 'Todos Somos Ilegales: We Are All Illegal'

,

'The Official May Day' protest afterparty

Tuesday, May 01, 2012 8:30 PM PDT
Echo, Los Angeles, CA
18 years and over
Purchase Tickets
We're sorry, there are no tickets currently available through TicketWeb.
Additional Information
OUTERNATIONAL (New York City)
Los Angeles Release Party for 'Todos Somos Ilegales: We Are All Illegal'
A cinema in sound mixtape of original music, a concept album about the border, and featuring guest spots from Tom Morello (rage against the machine), Chad Smith (red hot chili peppers) and Calle 13 (9 time 2011 latin grammy winner). Listen to it: http://outernational.bandcamp.com
New York City's Outernational has released "Todos Somos Ilegales: We Are All Illegals", a name-your-price 18 track genre-bending bilingual cinema-in-sound mixtape album featuring collaborations with Tom Morello (Rage Against The Machine, Audioslave, The Nightwatchman), Calle 13 (nine time 2011 Latin Grammy Winner), Chad Smith (Red Hot Chili Peppers), plus special guest appearances by Tijuana songstress Ceci Bastida and transglobal tropical club DJ Uproot Andy. This record is both sweeping and singular.
Outernational just released a video for their cover of 'When The Ship Comes In,' currently featured on Amnesty International's Bob Dylan tribute, Chimes Of Freedom. The song features legendary Traveling Wilbury and John Lennon collaborator Jim Keltner on drums, who has recorded numerous times with Dylan himself.
"Channeling the radical stance and the disregard for stylistic parameters that were a hallmark of the Clash, New York City's Outernational is hellbent on restoring righteous indignation to rock and roll." -The New Yorker
"Outernational uncompromisingly tells the truth, and they paint a picture of the world the way they see it and a way that we don't hear on the radio and television as much as people need to." -Tom Morello
"Coupled with dynamic rhythms that somehow flow together like streams of water, their ripped-from-the-headlines lyrics of liberation struggle had the audience literally—at least in the case of one wild fan in a Mexican wrestling mask—hanging from the rafters." -The Village Voice
"These boys are the next big thing... They are an incredible mix of hard-rock, hip-hop, and world music. They mix politics and dance music in the best way, much like "The Clash" did." -BBC Radio
"Seeing is believing. They are down for the cause. They live it; it is no bullshit. It's awesome and humbling and inspiring all at the same time. The new grassroots movement has Outernational for soil." -Chad Smith (Red Hot Chili Peppers)
"Outernational with Chad Smith absolutely killed it last night!!!!!! Thanks for everything. You guys are starting a revolution." - John Varvatos at the former home of CBGB
TO FOLLOW OUTERNATIONAL


Processing your request, please wait....