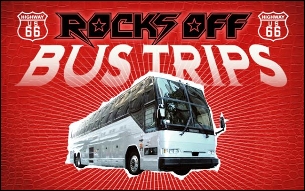 Radiohead - PARTY BUS to the Prudential Center!
Thursday, May 31, 2012 5:45 PM EDT (5:30 PM Doors)
ROCKS OFF EXPRESS PARTY BUS, New York, NY
18 years and over
Additional Information
Y'know what's gonna be awesome? RADIOHEAD returning to the East Coast live at The Prudential Center! Y'know what's not gonna be awesome though? Getting your car-less New Yorker ass over to Newark, NJ. That's where Rocks Off comes in!
We are running an air-conditioned, bathroom-equipped, sound system, TV screen-rockin party bus from NYC to and from The Prudential Center. You don't need to worry about finding a ride, staying sober, or even learning how the hell to get to Newark on a train and crowded shuttle bus. Really, all you've gotta do is buy a ticket, show up, stumble into and out of the venue, and we'll take care of the rest - don't that sound like it's worth a little money spent on your peace of mind? (And - we can't stress this part enough - not having to draw straws to see which one of your friends has to stay sober at a Radiohead show!)
The bus will run to and from the Hammerstein Ballroom - 34th St. and 8th Ave. Boarding begins at 5:30pm, and the bus will leave at 5:45pm PROMPTLY - we know you guys tend to be late to everything, but, really, you're gonna be super bummed out if you pay for a ticket and then miss the bus (and we're not going to refund you), so please take us at our word on this one. Refreshments are not served on the bus, but we encourage you to bring your own. BYOB! The bus will leave The Prudential Center Parking Lot half an hour after the show ends - once again, we are serious, and you will be even more bummed out if you pay for a ticket and then get stranded in Jersey after the show, so please proceed as efficiently as you can towards the bus after the show. The plus side is, you will find yourself back in NYC afterwards in plenty of time to get a decent night's sleep (or to just keep raging with all the awesome people you met on the bus).
Don't miss out on your seat on the bus! - you really, really don't want to take New Jersey Transit and then wait for a shuttle that may or may not be running that day. (Trust us - we've done it, and it sucks). If you have any questions email Sancho@rocksoff.com


Processing your request, please wait....