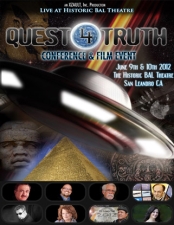 Xzault
QUEST FOR TRUTH - CONFERENCE


featuring

Dr. Louis Turi

/

Ruben Uriarte

/

Zareth the Alchemist

/

Servando Gonzalez

...

more

►

Saturday, Jun 09, 2012 12:00 PM PDT (11:00 AM Doors)
- Saturday, Jun 09, 2012 9:00 PM PDT
Historic Bal Theatre, San Leandro, CA

Purchase Tickets
We're sorry, there are no tickets currently available through TicketWeb.
Additional Information
QUEST FOR TRUTH CONFERENCE & FILM EVENT
The Historic BAL Theatre presents the Bay Area QUEST 4 TRUTH Conference, taking place on June 9th and 10th in San Leandro California. With all the controversy surrounding the end of the Mayan calendar and the fast approaching date of December 21st 2012 this might be your ticket to the information you will need to make it through the cosmic wheel of change as we enter the coming new world.

The Bay Area QUEST 4 TRUTH conference year after year gathers the world's greatest
researchers and experts in Ancient Mysteries, Philosophy, Spirituality, Paranormal Activity, UFO's, 2012, Ancient Aliens, Signs & Symbols, Forbidden Archeology, Conspiracies and so much more.

The Bay Area QUEST 4 TRUTH conference is a once in a lifetime experience, filled with two enlightening days of powerful knowledge. Saturday June 9th is a full day of speakers sharing their latest research and evidence with the attendees, and Sunday the 10th is the all day Film Fest with powerful films and documentaries.

The Historic BAL Theatre is the East Bay's home for family entertainment, special events, live music, comedy, magic, documentaries, lectures, sci-fi & horror films, foreign films, independent films, classic films and so much.


Ticket Prices $50 Day Pass • $100 Weekend Pass. Weekend pass includes Saturday Night Mixer and a Sunday Workshop with Servando Gonzalez and Zareth The Alchemist or an Audio CD of the Conference if workshops sell out, limited space.


Confirmed Special Guests & Speakers
George Noory Host of COAST-TO-COAST AM will SKYPE in on the 40ft screen to kick off the conference and provide a special Q&A session with the audience.
This year's speakers and special guests include; world renowned visionary and todays Nostradamus' Dr. Louis Turi, Third Generation Treasure Hunter and Ancient
Mysteries/Civilization Researcher Dan Dillman, Mufon's Northern California's Director and Leading expert of the world wide UFO phenomena Ruben Uriarte, Leading expert in Aztec & Maya Civilizations, Psychological Warfare the CFR, CIA, and Castro Servando Gonzalez, Leading Ancient Mysteries Expert and Philosopher Zareth The Alchemist, Leading Conspiracy Speaker and Host of Ground Zero Radio Show Clyde Lewis, The originator of the unified field theory Nassim Haramein, Author of the best selling book Technology of The Gods and GF Emissary Aleya Annaton, Psychic and leading Paranormal Investigator Christina George, Author of the Legacy of The Ages and Ancient Researcher Cyd.
For more info visit http://www.questfortruth.tv

Conference & Film Event Schedule available by downloading from the link below;
http://www.questfortruth.tv/downloads/guide.pdf

Speakers and schedule are subject to change or be canceled without notice.


Processing your request, please wait....

QUEST FOR TRUTH - CONFERENCE
featuring
Dr. Louis Turi
/
Ruben Uriarte
/
Zareth the Alchemist
/
Servando Gonzalez
/
Daniel Dillman
/
George Noory
/
Olav Phillips
/
Aleya Annaton
/
Clyde Lewis
/
Christina George
/
Cyd