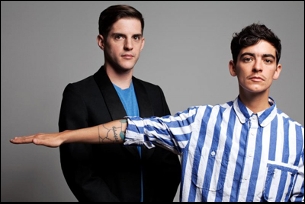 JD Samson & MEN


with

BROTHER (LA)

&

TOUCHE

Thursday, May 10, 2012 8:30 PM PDT
Echoplex (below the Echo), Los Angeles, CA
18 years and over
Purchase Tickets
We're sorry, there are no tickets currently available through TicketWeb.
Additional Information
In a lot of ways, Samson was the face of Le Tigre, androgynous and charismatic and a musical polymath. In MEN, she gets to play the pop singer role and proves pretty adept at it — the band's sumptuous video for "Off Our Backs" lets her uncork eager dance moves and some endearingly bawdy come-ons.
But hooks and beats have always been a means to an end for Samson. Though pleasure-packed principles on their own, the repetition and physicality of dance music has the potential to create a space to encourage action. In a pop landscape that is almost exclusively concerned with the particular booze-fueled joys of Doing It Real Big Up in the Club, this makes MEN an unusual proposition for a band. The music requires no reflection to enjoy on its own (heck, it even encourages getting plowed and getting down), and the band's particular charisma could put an edge on hypothetical collaborations with pop singers such as Lady Gaga already interested in similar sounds and images. In Le Tigre, Samson collaborated with Christina Aguilera on a track, and Samson sees it as one of her most accomplished moments in production. But she intends to keep walking the knife edge of volatile politics and for-the-hips rhythms without shortchanging either.
"I guess in a way I could tap into the moment and be able to push my politics, art, activism and community a bit further into the mainstream. But I have no intention of doing so unnaturally," she said. "We want an audience of good people that care and understand our work and why we do it. So we want to be huge, but we want to be huge to the right audience."
Decades after clubs such as Paradise Garage used musical and nightlife decadence as fuel for larger social fights for rights and visibility for gay and queer culture, MEN is trying to create a similar space for joyful antagonism. Even as the arc of recent political history seems to be bending toward equality (and the arc of music toward four-on-the-floors in all commercial spheres), there's still work to be done in both pursuits, and MEN may be one of the most promising bands working on it.
"It may feel like a big part of the States have battled and won. But in reality, there are plenty more fights to fight," Samson said. "Women still make 75% to the man's dollar and queers are still being murdered, beat up, fired, unfairly treated, and aren't allowed to marry. I'm the first to be optimistic about a new revolution and everything that has changed in the past decade. But I'm realistic about the work that needs to be done, and I won't stop speaking for what I believe needs to change." LA Times


Processing your request, please wait....