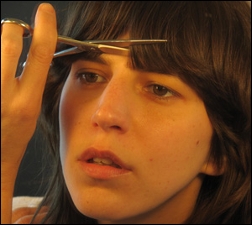 The Bell House
Eleanor Friedberger


plus

Hospitality

Wednesday, Apr 18, 2012 9:00 PM EDT (8:00 PM Doors)
The Bell House, Brooklyn, NY
21 years and over
Purchase Tickets
Tickets are no longer available here. Visit www.thebellhouseny.com for tickets.
Additional Information
You probably think you know everything there is to know about Eleanor Friedberger. "She's that girl from The Fiery Furnaces," you're thinking. "She is a great singer, I think she plays guitar….does she play guitar?" you're asking. "She has a really great haircut," you're musing. And yes, you'd be right about all of these things.
But what you likely don't know is that Eleanor Friedberger is not just the enigmatic mouthpiece of one of music's most interesting, dynamic and constantly exciting bands. In fact, Eleanor Friedberger is an exceptional songwriter herself, playing a variety of instruments and crafting the very sorts of choruses that made you fall in love with The Fiery Furnaces in the first place. (Their song "Tropical Ice-land" supports this statement very well if you're somewhat doubtful, which you shouldn't be.) She's a lover of Led Zeppelin and Jorge Ben; she's a fearless performer, as comfortable fronting a band as she is playing alone on a stage with an acoustic guitar; she's one of the sweetest alto voices in music. Nowhere is all of this more apparent than on her very first solo album, Last Summer, out on Merge Records on July 12th, 2011. And to give you a taste of what's to come, the album's first single, "My Mistakes," can be heard HERE now.
Last Summer, which was written, well, last summer, and recorded in fall 2010, was born out of Take Me Round Again, a collection of cover songs from the previous Fiery Furnaces album. Both Eleanor and Matthew did their own inspired versions of songs they'd written together for their last LP I'm Going Away. Matt's were otherworldly affairs, while Eleanor's were lo-fi and lovely, all recorded in her home, the sound of an artist kicking off her shoes, settling into a big comfy chair with an acoustic guitar, a glass of scotch, and a four-track. She enjoyed the experience so much she decided to move forward with recording songs she had written in her spare time, songs that hadn't been included on any of The Fiery Furnaces' nine incredible albums. This, of course, begs the question: does Last Summer sound like a Fiery Furnaces record? No. It sounds like Eleanor Friedberger.
We're pretty confident that when you know all this about Eleanor Friedberger, you will agree wholeheartedly that she continues to be one of the best damn songwriters we've got, never ceasing in her explorations of sound and constantly setting herself apart from her musical peers. Nowhere is this more apparent than on the dazzling Last Summer.

Processing your request, please wait....