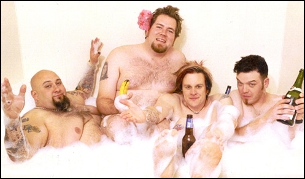 Bottom Lounge
Bowling for Soup
Monday, Apr 30, 2012 5:45 PM CDT (5:30 PM Doors)
Bottom Lounge, Chicago, IL

Purchase Tickets
We're sorry, there are no tickets currently available through TicketWeb.
Additional Information
Writing one perfect album is hard enough. But nine? Come on! Who else in the history of recorded sound has even dared reach such a milestone? Neil Young? Bob Dylan? Herb Alpert? Tiny Tim? Throw out greatest-hits packages, and you've got maybe HALF a decent album among them! No, the only band to have hit the nine-album mark without so much as a bum note is Denton, Texas' Bowling for Soup. And there's no debating those stats, so don't even try!

As usual, Bowling For Soup's ninth full-length, The Great Burrito Extortion Case, is the best album anyone will release this year. It's got hits! It's got hooks! It's got hidden messages! Well, okay, it doesn't have any hidden messages, but it does have something no other album of the past 10 years (or 20; was there even music that long ago?) has dared to offer. It has more undiluted HAPPINESS per song than should be legally allowed by law. Seriously, do you think Bowling for Soup called their summer 2006 tour "The Get Happy Tour" for nothing?

We know what you're thinking: "Bowling for Soup is just some big, famous, Grammy-nominated pop-punk act; aren't those bands all just way too happy for their own good?" Nice try, Einstein, but have you ever actually listened to those other bands? Didn't think so! The Halloween hair, the woe-is-me lyrics, the melodramatic MySpace blogs… It's no wonder so many of our children are on antidepressants. How else to survive a trip to the record store these days?

"We calculated it, and there are at least 12 verses' worth of total joy for every sort-of-sad chorus about an ex-girlfriend on this record," says singer/guitarist Jaret Reddick, who formed Bowling for Soup in 1994 and today rounds out the band with guitarist Chris Burney, bassist Erik Chandler and drummer Gary Wiseman. And Jaret should know something about calculating – he's got two college degrees! Okay, so maybe he never did that well in math, but the point is, this is a man who understands the epidemic of sadness in modern rock music and is trying to DO something about it. Put THAT in your coffin and cry over it, My Chemical whatever-your-name-is!


Processing your request, please wait....