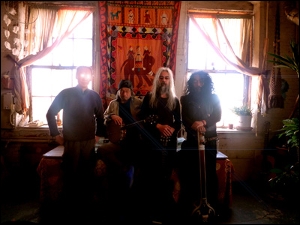 Acid Mothers Temple


with

Pond

&

Hepa/Titus

/

PHANTOM FAMILY HALO

Friday, Apr 13, 2012 8:30 PM PDT
Echo, Los Angeles, CA
18 years and over
Purchase Tickets
We're sorry, there are no tickets currently available through TicketWeb.
Additional Information
Acid Mothers Temple
A freak-out group for the 21st century was founded in 1995 by members of the Acid Mothers Temple soul-collective and led by Kawabata Makoto.
The current live line-up of the group is:
Cotton Casino: vocal, synthesizer Tsuyama Atsushi: bass, vocal, acoustic guitar Higashi Hiroshi: synthesizer, electric guitar Koizumi Hajime: drums, percussion Kawabata Makoto: electric guitar, electric bouzouki
POND
Hello everyone, welcome to the little piece of writing about the band Pond. This won't take long, I promise…
In 2008 – memory tells me it was summer – Joseph Orion McJam, Paisley Adams and Wiry B. Buddha were sat under a mulberry tree, (lot Lotus, alas, Buddhist references end here) in Daglish, Perth, where the they lived in a happy little home on Troy Tce with their friend Kevin, who now plays drums live.
Something in their orange juice and cup-o-soups that morning inspired them enough to write the naff-tropical lo-fi psychedelic pastiche that became Psychedelic Mango. A fun listen, if you can steel your ears and tolerate the minutes of white noise, which invariably accompany every half sensible pop song.
The idea of Pond was to be able to get anyone we wanted to play whatever whenever in a completely ego free kind of trip, all under the big obligation-less blanket of "Pond". This resulted in the next album, Corridors of Blissterday (more exemplary cosmic idiocy) being done live with an 8 piece band in 5 days.
Then I'm afraid to say we got too into Prince and the Mac, so we accidently made Frond.
We have played a bunch of shows, notably some in Japan in weird little clubs under other weird things and below some more weird things. You should go to Japan by the by. We've also done a little 7" release called Greens Pool that you can buy, with some more pop bollocks, that was released in a limited run of 300 including a one off piece of original art from Ben Baretto.
Now Pond consists of the original three, plus Kevin from Tame Impala on drums and Jamie, from the Silents, on keyboards.
That's an attempt at summarizing Pond for those who, like me, will probably not be bothered reading anything that is too florid and in depth. There yar! Information to the vein.
Much Love, Pond.
Hepa/Titus
Sterling Riley- likes to go to the desert to let things cool off, Heap of Titans, Hepa/Titus
Dana Young- c.a.n.s., testicular homicide, psyche meds, aerial pink, zeppelin
David Sender – union 13


Processing your request, please wait....