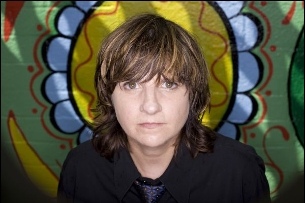 The Bell House
Amy Ray


plus

Kaia Wilson

Saturday, Apr 14, 2012 7:30 PM EDT (6:30 PM Doors)
The Bell House, Brooklyn, NY
21 years and over
Purchase Tickets
Tickets are no longer available here. Visit www.thebellhouseny.com for tickets.
Additional Information
In the pantheon of body parts romanticized in song, the heart is clearly the favorite (See: All Pop Songs), while the lung is as overlooked and misunderstood as a gangly feminist at a beauty pageant. But in Lung of Love, Amy Ray's sixth solo album in a decade, the punk-folk icon gives the humble apparatus its due.
Ray has always been on the side of the underdogs. In the mid 1970s, Amy Ray was a Georgia 'tween, plucking out Partridge Family songs on her guitar and dreaming of becoming David Cassidy, the ardent teen idol who got all the girls. She loved the psychedelic hippies like Janis Joplin and Jimi Hendrix, too. A poetic tomboy with big green eyes, Ray began writing songs about injustice and the tragedy of unrequited love, and playing her music in the schoolyard. "Even then, I had a sense that what I was writing was not for authority," says Ray. "I wrote for me and my peers."
By age 15, Ray was making music as "Saliers and Ray" with her school friend, Emily. Other than artists like Cris Williamson and Holly Near who were part of the Women's Music Movement, gay musicians weren't open about their sexual identities, so Ray's musical world was straight and her private life was queer. Both lives were taking off. After a chance glance through the dictionary to find a word they liked, Saliers and Ray were reborn as the Indigo Girls -a Grammy award-winning, multiplatinum-selling, social justice-promoting beloved folk-rock duo with dozens of recordings and thousands of tour dates under their belts. Spurred by an increasingly visible gay rights movement (and unable to stomach singing about standing up for yourself while being cagey about their love lives), the Indigo Girls were early celebrities to be "out" on record.
At 36, Ray released Stag in 2000, her first solo album. Although she'd been writing folk, then rock, music for a majority of her life, Ray sensed that neither was the ideal form for what she was trying to express. "When I first listened to Patti Smith or The Replacements, I thought, 'That's the way I feel, but I can't figure out how to write that [kind of] song,'" she told indie-artist Lois Maffeo in a 2000 interview. "It took me a long time to figure it out."
"It's not like I felt short changed or blocked by the Indigo Girls," says Ray. "But there was something I was trying to express that didn't fit into that format." Stag, she says, "was a desperate attempt to get these songs out of my system." The record was eclectic-Gothic ballads ("Johnny Rottentail"), raucous odes to suffrage feminists ("Lucystoners"), and a pin-drop quiet song about the death of her grandma ("Lazyboy"). It was recorded piecemeal, all around the country. The effect was raw, urgent, and exciting.
As a beloved Indigo Girl, Ray has long been known for her big muscular heart, as a solo artist though; she has indisputably found her voice.

Processing your request, please wait....