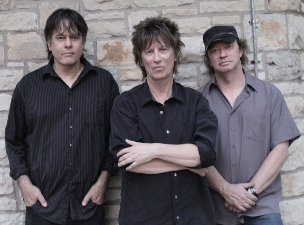 SPACE
93XRT welcomes Shoes with The Valley Downs
Saturday, Jul 19, 2014 8:00 PM CDT (7:00 PM Doors)
SPACE, Evanston, IL

Purchase Tickets
We're sorry, there are no tickets currently available through TicketWeb.
Additional Information
In an era where YouTube sensations come and go, it's refreshing to hear new music from Shoes, the rock band that has withstood the test of time. With the release of Shoes' Ignition album, band members Jeff Murphy, Gary Klebe and John Murphy, along with drummer John Richardson, showcase their musical talents in Shoes' 15th album of brand new songs. But to truly understand the remarkable journey of the Shoes band, you need to start at the beginning…
In the early 1970's, the small Midwestern town of Zion, Illinois still bore many of the markings of its founding as a religious enclave for a faith-healing evangelist and his followers: no liquor, no lottery tickets, no bikinis at the park on Lake Michigan. In this environment, if you wanted fun, you made it yourself. That included music.
And so Shoes was born. At first it was just a name: high school friends John Murphy and Gary Klebe decided that having a band would be cool, despite their complete lack of musical training or any instruments. They spent two years buying garage-sale guitars, learning whatever chords people would show them, and listening, listening, listening to the music they loved—the Beatles, Big Star, Bowie, the Move, Todd Rundgren, Nils Lofgren—trying to find their own voices.
In the summer of 1973, Jeff Murphy, John's brother, borrowed the money and bought a four-track tape machine. As they recorded with Jeff, they realized that he was the third member of Shoes. The next summer, they made their first DIY record without ever having played in public.
At the end of 1975, John and Gary returned from college permanently. Shumaker left, and they tapped local drummer Skip Meyer to replace him. Shoes pushed forward, beginning the power pop classic Black Vinyl Shoes that fall, a record which showcased their signature sound: fuzzy electric and bright acoustic guitars, jangly melodies, melancholy lyrics, and shimmering harmonies.
At the end of 2010, work began on a new Shoes record, titled Ignition, their first in 17 years. Working with John Richardson, who has been their live drummer since 1994, Shoes have found a new drive and purpose in these sessions. "I think that we're playing with a renewed sense of purpose," Jeff says. "It's really been a joy to work on these songs and reminds us that, despite the fact that it takes a ton of work and worry, there really is no greater satisfaction for us than completing a new Shoes song. It has also helped to strengthen and reaffirm our friendships." Gary notes, "We're doing this for the joy of it, not to further our careers," and expresses optimism over the direction of the new record.
With fifteen tracks completed, John characterizes Ignition as "somewhere between Stolen Wishes and Propeller." And all the Shoes credit Richardson with adding new muscle to their songs. "Johnny's our secret weapon," John says; Jeff calls his drumming "inspired": "with the inclusion of Richardson's drumming from the earliest stages of the songs, it gives us a rock-solid foundation to build on."


Processing your request, please wait....