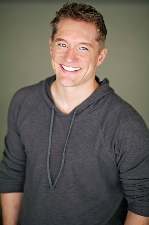 Purchase Tickets
Please call 212-757-4100 to make a reservation
Additional Information
BILL DAWES
"Bill Dawes is an accomplished actor, writer and comic whose heart resides in New York City but whose collection of "interesting" t-shirts resides in Los Angeles.
Bill is back out on the road after the close of his 3rd Broadway show ("Bronx Bombers") in which he played both Mickey Mantle and Thurmon Munson. Before that he starred in another sports drama, the Tony Award-winning "Lombardi," as Green Bay Packers legend Paul Hornung. All while being horrible at ball sports.
In between starring turns on Broadway, Bill has guest starred as a murderer or murder victim on countless hit network shows over the years, including Criminal Minds, Rizzoli and Isles, Law and Order, Damages, and Sex and the City.
His versatility and depth has made Dawes a favorite of directors in the independent film world, where he has appeared in several award-winning independent films, (Adam, Evenhand, and Fiona) and one DVD cult-hit about getting drunk and having sex with the handicapped (I Hope They Serve Beer in Hell).
Bill Dawes' presence is not limited to the stage or screen, however. He's toured all over the globe (Canada, Hong Kong, the Philippines, New Zealand, the Caribbean, South Africa) and entertained American troops by the thousands in Iraq and Kuwait as part of the USO. A mixed-race comedian—half white, half trash—Bill is a comic's comic who plays by his own rules, which is why he's horrible to play foursquare with (he always wins!). But don't worry, his act has something for everybody, especially single women looking for Mr. Right Now.
In a past life, Bill was a rocket scientist who graduated Princeton University (no, really), a professional breakdancer, and a kundalini yoga instructor. Plus, his public high school was 70% black and 30% terrified, so if you hear him tell a racist joke in his act—and he might—just know that he's not actually racist. He voted for Obama. Twice."
-- Nils Parker, writer/producer of the film "I Hope They Serve Beer in Hell"
This show will also feature Sam Haft, Ashley Kirschner, and KC Arora
For groups of 12 or more, please call (212) 956-0101 x203
Green Harlequin Package
One reserved VIP ticket
VIP Priority Check-in - no waiting on lines
Gold Harlequin Package*
One reserved VIP ticket
VIP Priority Check-in - no waiting on lines
Top Shelf Open Bar during the show - open top shelf bar, domestic and imported beer, wine, soda, and bottled water
*Gratuity is NOT included in the price of the package. You can leave a gratuity for your server at the end of the show.
Upon arrival at Carolines, both Green and Gold ticket purchasers should proceed directly to the host podium at the bottom of the stairs. Due to the location of these priority seats, we can only hold them until show time. Late arrivals will be seated in the best available seats.


Processing your request, please wait....