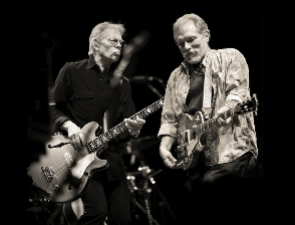 SPACE
93XRT welcomes Hot Tuna (acoustic)
Wednesday, Jul 16, 2014 7:30 PM CDT (6:30 PM Doors)
SPACE, Evanston, IL

Purchase Tickets
We're sorry, there are no tickets currently available through TicketWeb.
Additional Information
From their days playing together as teenagers to their current acoustic and electric blues, probably no one has more consistently led American music for the last 50 years than Jorma Kaukonen and Jack Casady, the founders and continuing core members of the iconic blues-roots band Hot Tuna.
Now members of the Rock & Roll Hall of Fame, the pair began playing together while growing up in the Washington D.C. area, where Jack's father was a dentist and Jorma's father a State Department official. While a junior and senior high student, Jack played professional gigs as lead guitarist at night before he was old enough to drive. Jorma, four years older than Jack, started college in Ohio, accompanied his family overseas and then returned to college, this time in California. Along the way, Jorma became enamored of the guitar playing of Rev. Gary Davis and became a master of his finger-picking style. Meanwhile, Jack took an interest in the electric bass--at the time a controversial instrument in blues, jazz, and folk circles.
In the mid 1960's, Jorma was asked to audition to play guitar for a new band that was forming in San Francisco. Though an acoustic player at heart, he grew interested in the electronic gadgetry that was beginning to make an appearance in the popular music scene, particularly in a primitive processor brought to the audition by a fellow named Ken Kesey. Jorma decided to join the band and soon thereafter he summoned his young friend from Washington, who now played the bass. Thus was created the unique (then and now) sound that was The Jefferson Airplane. Jorma even contributed the band's name, drawn from a nickname a friend had for the blues-playing Jorma. Jack's experience as a lead guitarist led to a style of bass playing which took the instrument far beyond its traditional role.
While in The Jefferson Airplane, putting together the soundtrack of the sixties, Jorma and Jack remained loyal to the blues, jazz, bluegrass and folk influences of the small clubs and larger venues they had learned from years before. They would play together, working up a set of songs that they performed at clubs in the Bay Area, often after having played a set with the Airplane. This led to a record contract; in fact, they had an album recorded before they decided to name their band Hot Tuna. With it, they launched on an odyssey which has continued for more than four decades, always finding new and interesting turns in its path forward.
The first thing an early Hot Tuna fan discovered at their concerts of the early 1970's was that the band was growing louder and louder. In an era in which volume often trumped musicianship, Hot Tuna provided both. Jack and Jorma really loved to play. "Look around for another band that plays uninterrupted three- to six-hour sets," wrote reviewer Jerry Moore.
Album followed album--more than two dozen in all, not counting solo efforts, side projects and appearances on the albums of other bands and performers. In an era in which old bands reunite for one last tour, Hot Tuna can't because Hot Tuna never broke up.


Processing your request, please wait....